Illinois Life and Health Pre-Licensing & Exam Prep Courses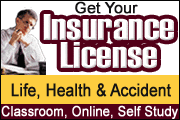 How To Earn A Life And Health Insurance License In Illinois
Earn Your Illinois Life and Health License!
Are you ready to earn your life and health insurance license in Illinois? If you don't have this valuable license yet, what are you waiting for? If it is not knowing what to do or finding the right training that you'll need to pass the exam, you've come to the right place. ABTrainingCenter.com has a range of proven training courses that will give you the preparation you need to pass your life and health insurance exam and earn your license.
Illinois Life And Health Insurance Exam Training
Want to know how do I get my insurance license in Illinois? We can help! We offer IL Life & Health, Life Only, and Health Only Insurance Exam Prep in a live classroom pre-licensing training format (click the applicable link(s) below for details), specifics on the Illinois pre-licensing requirements (see the verbiage below the search box below), as well as the phone, fax, and email contacts for the state insurance division (see this info at the bottom of this page).
Why Get An Illinois Health And Life Insurance License
A life and health insurance license in Illinois can dramatically expand the reach of your insurance broker business. There isn't a family in Illinois that doesn't benefit from the protection of life and health insurance, and you can be the one to provide it. If you become known as a provider of quality life and health insurance policies, there is no limit to how much your business can flourish.
About Illinois Life And Health Insurance Licensing Courses And Exam Prep Materials From Agent Broker Training Center
Because you need classroom training to fulfill your pre-licensing requirement for life and health insurance in Illinois, AB Training Center offers in-person life, health and accident seminars. You can take the combined course or an individual line (accident and health are considered one line). If you are taking the combined course, you must complete 25 hours of pre-course study using the study materials provided before starting the live seminar.
In addition to allowing you to meet the pre-licensing requirements, your seminar and study materials will provide everything you need to pass the life and health licensing examination, including dozens of sample questions and practice tests. Here is just some of what you receive:
A downloadable textbook that includes information on Arizona insurance laws
Class Notes and Audio Review
OnDemand Online Video Review that can be viewed as frequently as you like
Loads of practice exam questions
To get started, click the link below to select your class.
Recommended Illinois Life And Health Insurance Licensing Courses And Exam Prep Materials
To find Illinois Life and Health insurance licensing courses and exam prep materials, simply click on any of the recommended courses below or select "Life & Health" and your state from the "Licensing" section of the search box below. Good luck passing your Illinois Life & Health insurance licensing exam!
Recommended Training Courses:
In-Person Seminars
Find Seminars, Webinars, And Online Training In Your Area
How Do I Get My Insurance License In Illinois? Life And Health Insurance Licensing Info For Illinois Insurance Agents
Life And Health Insurance Pre-Licensing Requirements For Illinois Resident Insurance Agents
Many states have specific pre-licensing requirements that you must fulfill before you can sit for the life or health insurance licensing exam, and Illinois is one of them. For the combined life and health insurance line you need 40 hours of pre-licensing education, at least 15 of them in a classroom setting.
You will need to demonstrate that you have mastered the classroom material by passing a pre-licensing exam with a score of at least 70%. Once you have done so, you can register for your life and health insurance licensing exam with Pearson VUE. The exam fee is $103.
Illinois Life And Health Insurance Exam Requirements
When you arrive at the scheduled time for your licensing exam, you must bring with you your certificate of completion of pre-licensing along with two valid forms of government-issued I.D., including at least one photo I.D. The Life Agent examination is 99 multiple-choice questions, and you have 135 minutes to complete it. The Accident and Health Insurance examination is 107 questions and 135 minutes to complete. A passing score is 70%.
Once you pass the exam, you will receive a score report indicating this with information for applying for your license through the National Insurance Producer Registry.
Contact Info: Illinois Life And Health Insurance Licensing Requirements
To help with your examination scheduling, we have provided below information on Illinois licensing requirements, its insurance department, and examination scheduling facilities.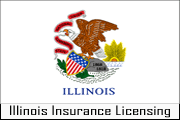 Illinois Department of Financial and Professional Regulation - Division of InsuranceAddress:
Producer Licensing Unit | 320 W. Washington Street | Springfield, Illinois 62767
Phone:
312.814.2420
Fax:
217.782.6367
Email:
Licensing@ins.state.il.us
Website:
http://insurance.illinois.gov/producer/producermain.html
Examination SchedulingProvider:
Pearson VUE
Phone:
1.800.274.0402
Website:
http://www.pearsonvue.com/il/insurance/
Good luck passing your Illinois Property And Casualty insurance licensing exam!
Other Insurance Licensing Courses For Illinois:
Disclaimer
This information is based on state laws and regulations, and is subject to change. ABTrainingCenter makes every effort to make sure this information is current and accurate, however, ABTrainingCenter is not engaged in rendering legal or professional advice and shall not be held responsible for inaccuracies contained herein.