Indiana Insurance Adjuster License
Best-Selling Training Courses:
Online Training Courses
Instructor-Led: Webinars
Earn Your Indiana Insurance Adjuster License With Our IN Pre-Licensing Courses And Exam Prep Materials!
If you are looking to advance in the insurance business, one way may be by becoming an Indiana insurance claims adjuster. While being a claims adjuster is not for everybody, those who take to this work can prove invaluable to their employers and make a healthy income. If you are considering pursuing this line, a great way to start is with insurance claims adjuster training in Indiana with ABTrainingCenter.com.
What Is An Insurance Claims Adjuster?
What exactly is required of insurance claims adjusters? As an adjuster, you will be establishing your company's liability with respect to every claim that is filed against it. You will use your skills to analyze the scene or event that caused someone to initiate the claim, and you will decide if the company needs to pay out the claim and for how much. You will be the company's trusted investigator, doing whatever research and interviewing is required to generate a fair settlement for the claim.
Indiana Adjuster License Requirements
Becoming an Indiana Claims Adjuster can be an appealing profession that can be quite lucrative. But before you can begin working as an Insurance Adjuster, you must first obtain your IN Insurance Adjuster License.
How Do I Become an Indiana Insurance Claims Adjuster?
While states often allow people to sit for the adjuster exam without any pre-licensing training, Indiana is not one of those states. You will need 40 hours of pre-licensing before you can sit for the Indiana insurance adjuster exam, as demonstrated through satisfactory completion of an Indiana adjuster license course.
Fortunately, your search for Indiana adjuster license courses begins and ends right here. Agent Broker Training Center has an excellent state-approved adjuster pre-licensing course to fulfill your pre-licensing requirement and will fully prepare you to pass the licensing exam.
Below are the requirements for becoming a claims adjuster in Indiana:
Be 18 years of age or older

Be trustworthy, reliable, and of good reputation

Have not committed an act that is grounds for probation, suspension, revocation, or refusal of licensure

Pay the appropriate fee

Complete the required PreLicensing course

Take and pass the Indiana Adjuster exam

After completion of the PreLicensing and Adjuster Exam, apply online for adjuster license
How Do I Earn My Insurance Adjuster License In Indiana?
You must be 18 years of age or older, be trustworthy and reliable, have a good reputation and have not committed any act that would be grounds for suspension, revocation, probation or refusal of your license. If you meet these requirements, once you have passed your pre-licensing course and receive your certificate of completion, you may register for the Indiana insurance adjuster licensing exam. There is a $75 fee associated with taking the exam.
If you pass the exam, as indicated by a score of 70% or greater, you will receive information on how to apply online for your license.
Take advantage of the AB Training Center online pre-licensing course, as we cover all the information that will appear on the exam, as well as sample questions, practice exams and test-taking techniques that will maximize your chances of passing the first time through.
Recommended Indiana Property And Casualty Pre-License Insurance Courses And Exam Prep Materials
When you choose to study for your Indiana property and casualty exam with prep courses from Agent Broker Training Center, you get the advantage of a solid but flexible structure for studying. We offer online training courses with state testing packages that include Indiana property and casualty exam prep materials so you can study your way to get the results you want.
To find Indiana Adjuster licensing courses, either click on a Recommended Course below, or select "Insurance - Adjuster" and your state from the "Licensing" section of the search box below. Good luck passing your Indiana Adjuster insurance licensing exam!
Also Available: Xactimate Training Courses
In addition to our adjuster pre-licensing course, you will also want to sign up for one of our online Xactimate software trainings. Xactimate is the leading claims estimation software used in the industry today, and you will want to have thorough familiarity with it, which our course will provide.
Best-Selling Training Courses:
Online Training Courses
Instructor-Led: Webinars
Find Seminars, Webinars, And Online Training In Your Area
Contact Info For Your Indiana Claims Adjuster Licensing Exam
To help with your examination scheduling, we have provided below information on Indiana licensing requirements, its insurance department, and examination scheduling facilities.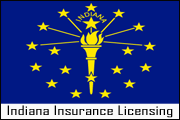 Indiana Department of Insurance - Licensing DivisionAddress:
311 W. Washington Street, Suite 300 | Indianapolis, IN 46204-2787
Phone:
317.232.2413
Fax:
317.232.5252
Email:
idoi@in.gov
Website:
https://secure.vitapowered.com/cbp/login
Examination SchedulingProvider:
Performance Assessment Network
Phone:
1-877-449-8378
Website:
https://secure.vitapowered.com/cbp/login
Good luck passing your Indiana Claims Adjuster insurance licensing exam!
Other Insurance Licensing Courses For Indiana:
Disclaimer
This information is based on state laws and regulations, and is subject to change. ABTrainingCenter makes every effort to make sure this information is current and accurate, however, ABTrainingCenter is not engaged in rendering legal or professional advice and shall not be held responsible for inaccuracies contained herein.