Indiana Securities Licensing

AB Training Center offers an array of courses to those needing a Series 6, 7, or 63 license in Indiana.No matter if you're a resident or just working in the state, we can help you obtain your licensure in no time.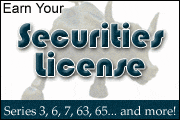 All of our courses are designed to help you pass the exams developed by the North American Securities Administrators Association (NASAA). Our courses are offered in several different formats including online training, seminars, and self-study. You can choose which type of course works best for you, which allows you to prepare for the exam at your own rate and gives you freedom to make you more successful in gaining the education you need to pass these exams. With taking our courses, we can aid you in the path to a flourishing career.

Securities training has become more common in Indiana in the past few years. With growing businesses and an impressive gross state product of over $275 billion it's easy to see why. Along with these businesses, the state's economy is also thriving with industries in manufacturing, education, transportation, energy, and several others.

With this growing demand for our training, we offer a large collection of our courses in Bloomington, Evansville, Fishers, Fort Wayne, Gary, Indianapolis, and other nearby areas within the state. Please contact us today to find out more about our securities training.

Find Indiana Series 6, 7, & 63 License Exam Training

To find Series 7, Series 6, or Series 63 exam training in Indiana, either click a Recommended Course below or use the search box. Good luck on your exam!