Insurance Licensing Exam
How Do I Get An Insurance License? What Is An Insurance Licensing Exam?
To work in the insurance industry, you will need to be licensed in your state for the particular type of insurance you wish to work with. To obtain that license, you will need to sit for and pass an insurance licensing test.
If you have never taken this test before, it is completely natural to have questions about how to take the insurance license exam and what to expect. There is no need to be intimidated by this exam. With the proper preparation and careful study, virtually anyone with the determination to succeed in the insurance field should be able to pass their state's licensing test.
What Is On The Insurance Licensing Exam?
What appears on the insurance licensing exam can vary from state to state and by license type. That is why you should be sure your insurance exam prep focuses on the insurance examination for your specific state and by the type of license preferred. Otherwise, you may miss out on important definitions, legal terms, or other insurance considerations you will need to pass your state licensing exam.
The Agent Broker Training Center offers detailed state-specific study materials for each type of insurance license, so you will have an excellent idea of the kind of questions to expect and areas of knowledge tested on your licensing exam (click the applicable image below for more details on your state's requirements.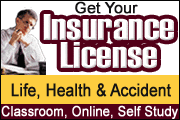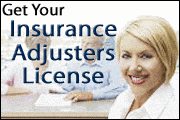 How Much Time Should I Give Myself to Study?
The amount of time you will need to prepare for the exam varies by the individual. Some may be prepared in weeks, while others may take months. If you have ever studied for a major exam before, you probably have some sense of how much time you need to be fully ready. One thing that sometimes delays some people is not having sufficient time to schedule prep classes.
While we at Agent Broker Training Center offer live in-person seminars, we also have many useful online insurance exam training courses that allow you to learn according to your own schedule, which may get you ready for the test much more quickly.
What Can I Expect From The Insurance Licensing Test?
Remember that a course certification exam or a practice exam is not the same as the actual state-sponsored exam required for licensure. To get your actual license, you must pass an official state licensing exam. Once you have signed up for a test with your local state testing center which operates under the purview of the state insurance commissioner, you will check-in at the location provided at the scheduled time. Do not be late - if you arrive past the scheduled time, you will not be admitted. You must check-in to be admitted to sit for the test.
Checking in will involve verifying that you are registered with a picture ID such as a driver's license or passport. If your state requires successful completion of a pre-licensing course (see below), you may be required to present your certificate at this time.
Once you are checked in, you will have to put all of your belongings such as your purse, backpack and any contents of your pockets into a secure locker before going to the testing room. You will then be directed to your testing cubicle and receive some brief instructions from a member of the test center staff.
State testing facilities are carefully monitored to prevent cheating or other misconduct. You must remain silent and focused on your test during the exam. You will take the exam on a computer that will be provided, and it will feature a tutorial explaining exactly how to take the exam. It is a multiple choice test, and the amount of time allotted varies from state-to-state. If you need to leave the room to use the facilities during the exam, you will need to use your ID to get out and back to the testing area.
If you pass the test, you will receive a paper with instructions on how to apply for your license. If you do not pass the first time, you will receive a document showing you areas to focus on for your next attempt.
There may be some variations in procedure from state-to-state, so be sure and obtain your state's Candidate Licensing Handbook for details on such matters as acceptable reasons for lateness (if there are any) and test-taking protocol.
What Are My Best Options For Insurance Exam Prep?
A combination of study guides, practice exams, online insurance licensing classes, and other self-study materials geared toward the state in which you are sitting for your licensing exam can give you the best chance of passing the licensing exam on the first try. You will probably find that the more you can do to prepare yourself for the licensing exam, the better.
At Agent Broker Training Center, we offer a wide variety of state-specific online training classes as well as both printed and digital self-study materials for a range of different insurance and securities licensing exams to help. If your state requires a certain number of hours of in-person training before you can be licensed or if you learn better in a classroom environment, you can attend our in-person life insurance training seminars as well. Our seminars are built to completely satisfy state education demands and come with a certificate of completion to show your state licensing board upon successful completion of the seminar course.
If this is not your first time attempting to pass the state insurance licensing examination, you have the benefit of being able to choose study materials and focus your attention on our online courses based on your identified areas of needed improvement. Since you take the online courses on your own time and at your own pace, you are free to spend as much or as little time as you need in any specific area of the course instruction.
It is never too soon to start preparing for your licensing exam. Select your state and the particular area of insurance you are seeking to be licensed in, then register for your class or order your study materials today!
Find Seminars, Webinars, And Online Training In Your Area