Iowa Insurance Adjuster License Exam Course | AB Training Center
Best-Selling Training Courses:
Online Training Courses
Instructor-Led: Webinars
Become An Iowa Insurance Adjuster
Have you considered getting into the insurance business in Iowa? Pursuing a career as an insurance claims adjuster is a great way to put your knowledge of insurance and insurance claims to work. Insurance claims adjusters are often in high demand by insurance companies, to whom they are a vital part of the operation. If you want the training that will set you apart as an adjuster in Iowa, register for claims adjuster training in Iowa with ABTrainingCenter.com.
What Is An Insurance Claims Adjuster?
An insurance claims adjuster is the insurance company's field agent. As an adjuster, you are the one who establishes the legitimacy of each claim. If an insurance company were to immediately pay out on each filed claim without investigating, they would quickly go out of business. As the insurance company's dedicated insurance claims adjuster, you visit the site of the claim, examine the circumstances, interview witnesses and do whatever it takes to make sure the claim is legitimate and the settlement your company offers is fair.
How Do I Become An Iowa Insurance Claims Adjuster?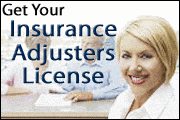 You do not need any pre-licensing training to become an insurance adjuster in Iowa - in fact, you do not need a license at all. This means that you do not need to take an insurance adjuster exam or take any adjuster license courses to be an adjuster for an Iowa insurance company.
That said, we recommend Iowa residents wanting to become a licensed independent adjuster obtain a Designated Home State (DHS) License from either Florida or Texas. In essence, a DHS license is helpful because it shows potential employers that you have taken advanced education and passed an exam.
Our TX and FL online courses provide all the study materials you need and even includes the state test so there is no travel required. If you are willing to put in the time, our courses give you a great chance of passing the exam right out of the gate.
How Do I Start Working As An Insurance Claims Adjuster In Iowa?
Since you do not require a license, all you will have to do to become an insurance claims adjuster in Iowa is find an insurance company that will provide you with the training and opportunity you need. However, you may be interested in becoming an independent catastrophic adjuster or in doing claims adjusting in another state. For this reason, we recommend you sign up for one of our insurance adjuster online training courses.
These courses provide the best insurance claims adjuster training you can get. We cover all the information that you may need to perform your duties as a claims adjuster. In addition to making it easier for you to pass a licensing exam in another state, these courses can make you more attractive to Iowa insurance companies, who are likely to discover you have more than the expected amount of knowledge and training when it comes to insurance adjusting.
Another way to set yourself apart from the pack and make yourself a better insurance claims adjuster is by taking one of our Xactimate webinars. These are live online trainings that will show you how to use Xactimate, the No. 1 claims estimation software in the industry. Your familiarity with this software will help you in your daily duties and make you very appealing to potential employees. Select the courses you need by clicking the links below to get started.
Recommended Iowa Adjuster License Training Courses
AB Training Center provides Catastrophe Adjuster training and materials for those who are interested in becoming an Independent Catastrophic Adjuster. Since Iowa does not license adjusters, you may become licensed through the Texas or Florida program to obtain a non-resident license. Simply select from the recommended courses below.
Best-Selling Training Courses:
Online Training Courses
Instructor-Led: Webinars
Contact Info: Iowa Property And Casualty License Requirements
To help with your examination scheduling, we have provided below information on Iowa licensing requirements, its insurance department, and examination scheduling facilities.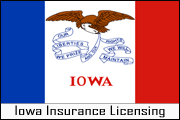 Iowa Department of Insurance - Licensing DivisionAddress:
330 Maple Street | Des Moines, IA 50319-0065
Phone:
515.281.7757
Fax:
515.281.3059
Website:
http://www.iid.state.ia.us
Examination SchedulingProvider:
Pearson VUE
Phone:
1-877.540.5825
Website:
http://www.pearsonvue.com/ia/insurance/
Good luck passing your Iowa P&C insurance licensing exam!
Other Insurance Licensing Courses For Iowa:
Disclaimer
This information is based on state laws and regulations, and is subject to change. ABTrainingCenter makes every effort to make sure this information is current and accurate, however, ABTrainingCenter is not engaged in rendering legal or professional advice and shall not be held responsible for inaccuracies contained herein.