Kansas Securities Licensing

In Kansas, we offer a huge selection of securities training courses designed specifically for those in need of a Series 6, 7, or 63 license.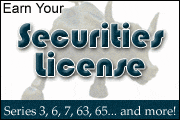 This training from AB Training Center is offered through a number of courses and is administered through either self-study, audio recordings, seminars, or online training. No matter how busy your schedule is, we have the perfect courses for you and your specific needs. All of our courses are designed to help you prepare for the exams developed by the North American Securities Administrators Association (NASAA). With any of our classes you can rest easy knowing that you're gaining the education and the certainty you need to pass those exams and obtain the license you deserve.

Recently, the state's economy has begun to see high success in more industries than just agriculture alone. Oil production, food processing, chemical products, and commercial and private aircrafts have become huge contributors in Kansas. With the shift in the economy, the necessity for securities training has become more prominent for the state as a whole.

AB Training Center offers courses in Kansas City, Olathe, Overland Park, Pittsburg, Salina, Topeka, Wichita, and more. If you're interested in obtaining your license through any of our courses, please contact us to see how we can help you today.

Find Kansas Securities Training

To find Series 7, Series 6, or Series 63 exam training in Kansas, either click a Recommended Course below or use the search box. Good luck on your exam!