Kentucky Insurance Adjuster License
Best-Selling Training Courses:
Online Training Courses
Instructor-Led: Webinars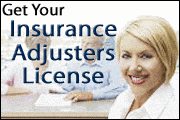 Kentucky Insurance Adjuster Licensing Requirements
Becoming a Kentucky Claims Adjuster can be an appealing profession that can be quite lucrative. But before you can begin working as an Insurance Adjuster, you must first obtain your KY Insurance Adjuster License.
Why pursue an adjuster license in Kentucky? There are a number of reasons why this may be the course you want to follow if you have an interest in the insurance business. There are no continuing education requirements if you are a staff adjuster, and you do not need any special certifications other than passing the Kentucky insurance adjuster exam. Also, if you have a Kentucky insurance adjuster license, you have a skill that every insurance company needs, which could put you in high demand when seeking employment.
What Is An Insurance Claims Adjuster?
An insurance claims adjuster is something of a detective in the insurance field. It is your job as a Kentucky insurance adjuster to investigate the scene of a claim and determine just how legitimate that claim is. You help decide how much the insurance company is liable for, if at all, based on your interviews of witnesses, your examination of the scene and research. It is an extremely powerful and important position in the insurance industry.
How Do I Become A Kentucky Insurance Claims Adjuster?
The basic requirements for becoming a Kentucky insurance claims adjuster are noted below. They include passing the Kentucky insurance adjuster exam to receive your license. We recommend that you prepare for this exam with the right claims adjuster training. Kentucky residents who are interested in fully preparing for this exam can take advantage of Kentucky adjuster license courses from Agent Broker Training Center by clicking the appropriate links below.
How Do I Start Working As An Insurance Claims Adjuster in Kentucky?
It will be very important for you to take the claims adjuster training courses. This will prepare you to pass your licensing exam as well as increase your level of knowledge and make you more appealing to potential employers. Our Kentucky Adjuster Exam Prep course is an online course you can take at your own pace and on your own schedule.
We also offer Xactimate training. Our Xactimate software training is a live online seminar that will show you all the ins and outs of Xactimate, which is the established leader with respect to claims estimating software in this industry. Being proficient in Xactimate is another skill that will serve you well when seeking insurance adjuster positions in Kentucky.
Recommended Kentucky Claims Adjuster Insurance Licensing Courses And Exam Prep Materials
To find Kentucky Adjuster insurance licensing courses and exam prep materials, simply click on any of the recommended courses below or select "Adjuster" and your state from the "Licensing" section of the search box below. Good luck passing your Kentucky Claims Adjuster insurance licensing exam!
Best-Selling Training Courses:
Online Training Courses
Instructor-Led: Webinars
Find Seminars, Webinars, And Online Training In Your Area
Adjuster Insurance Licensing Info For Kentucky Insurance Agents
Claims Adjuster Pre-Licensing Requirements For Resident Insurance Agents
18 years of age or older

Be trustworthy and of good reputation

Be competent to exercise the license

Have an office accessible to the public

Be financially responsible

Pass the KY state exam administered by KY Department of Insurance

Complete the Kentucky Insurance Adjuster License application and submit with $50 application fee

No Continuing Education is required
Kentucky Insurance Adjuster Licensing Info For Non-Resident Agents
Non-resident applicants for a KY Adjuster License must submit an application. Please visit the
National Insurance Producer Registry
for more information on Kentucky non-resident licensing.
NOTE: Kentucky grants reciprocal licensing privileges to anyone holding a license from their home state which also allows Kentucky adjusters to work in that state.
Contact Info: Kentucky Claims Adjuster Licensing
To help with your examination scheduling, we have provided below information on Kentucky licensing requirements, its insurance department, and examination scheduling facilities.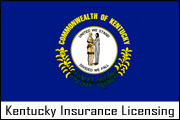 Kentucky Department of Insurance - Licensing DivisionAddress:
215 W. Main Street | P.O. Box 517 | Frankfort, Kentucky 40602-0517
Phone:
502.564.6004
Fax:
502.564.6030
Email:
koiagentlicensingmail@ky.gov
Website:
http://insurance.ky.gov/
Examination SchedulingProvider:
KY Department of Insurance
Phone:
1.502.564.6004
Website:
http://insurance.ky.gov/static_info.aspx?static_id=71&MenuID=33&Div_id=2
Good luck passing your Kentucky Adjuster insurance licensing exam!
Other Insurance Licensing Courses For Kentucky:
Disclaimer
This information is based on state laws and regulations, and is subject to change. ABTrainingCenter makes every effort to make sure this information is current and accurate, however, ABTrainingCenter is not engaged in rendering legal or professional advice and shall not be held responsible for inaccuracies contained herein.