Kentucky Securities Licensing

At AB Training Center, we offer a large number of courses for those
in need of obtaining a FINRA Series 7 license in Kentucky.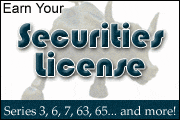 We have several different formats including online training, seminars, self-study, and audio recordings or CDs. With all of these choices, you can decide which type of class works best for you to ensure that you will get the best chance to prepare for your license exam. All of our courses are designed to help you gain the education and confidence you need in order to receive your license and be on your way to a more successful career.

Kentucky has a striving economy with its largest industries in agriculture, energy fuel production, medical facilities, and auto manufacturing. The state also has a fair amount of big cities and highly successful corporate office, which is a large reason demand for securities training has increased in the past few years.

At AB Training Center, we currently offer a variety of courses available in Bowling Green, Covington, Lexington, Louisville, Owensboro, and more. To find out more about the courses we have to offer, please contact us today.

Find Kentucky Securities License Training Courses

To find Series 7, Series 6, or Series 63 exam training in Kentucky, either click a Recommended Course below or use the search box. Good luck on your exam!