Louisiana Insurance Claims Adjuster Licensing Info
Best-Selling Training Courses:
Online Training Courses
Instructor-Led: Webinars
Get Your Louisiana Insurance Adjuster License!
Becoming a Louisiana Claims Adjuster can be an appealing profession that can be quite lucrative. But before you can begin working as an Insurance Adjuster, you must first obtain your LA Insurance Adjuster License.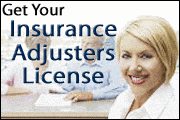 Obtaining a Louisiana insurance adjuster license is a great way to increase your job opportunities in the insurance industry. While most people think of insurance brokers when they think of working in the insurance industry, insurance companies require many different types of workers to function.
Without good insurance adjusters, an insurance company cannot succeed. After you obtain your adjuster license in Louisiana, you have the opportunity to be that skilled adjuster for a Louisiana insurance company.
What Is An Insurance Claims Adjuster?
The insurance claims adjuster is the employee who actually goes out into the field and examines claims submitted to the insurance company. They are the ones who decide if a claim is valid and determines how much the insurance company is liable for reimbursing. As you might imagine, being able to do this accurately is extremely important to an insurance company.
When you are a skilled insurance claims adjuster, you will use your knowledge of local insurance regulations and your company's policies, along with information you gather from interviews, examinations and your own research to set accurate claims.
How Do I Become A Louisiana Insurance Claims Adjuster?
The most important requirement for becoming a Louisiana insurance claims adjuster is obtaining an insurance adjuster license by passing the Louisiana insurance adjuster exam. To do this, it is highly recommended that you complete a claims adjuster training program. The exam can be difficult to pass if you are not fully familiar with the material that may appear on it.
Fortunately, at Agent Broker Training Center, we offer the courses you need to be able to pass your Louisiana adjuster licensing exam on the first try. Find the right course for you by clicking the link under "Recommended Training Courses" below.
Recommended Louisiana Adjuster License Training Courses
AB Training Center provides approved LA Adjuster training and materials needed to obtain your Louisiana Insurance Adjuster License. We have everything you need to prepare yourself for the Louisiana Claims Adjuster exam. Simply select from the recommended courses below, or search under "Insurance-Adjusters" and "Louisiana" in the search box below.
Also Available: Xactimate Training Courses
In addition to our adjuster pre-licensing course, you will also want to sign up for one of our online Xactimate software trainings. Xactimate is the leading claims estimation software used in the industry today, and you will want to have thorough familiarity with it, which our course will provide.
Best-Selling Training Courses:
Online Training Courses
Instructor-Led: Webinars
Find Seminars, Webinars, And Online Training In Your Area
Louisiana Adjuster Licensing Info
LA Adjuster License Requirements:
18 years of age or older

Reside in or maintain a principal place of business in Louisiana

Pass the LA state exam administered by PSI Testing Centers

Complete the Louisiana Insurance Adjuster License application and submit with applicable fees

24 Hours Continuing Education is required every two years for Louisiana resident adjusters.
Non-Resident Louisiana Insurance Adjuster License
Non-resident applicants for a LA Adjuster License must submit an application. Please visit the
National Insurance Producer Registry
for more information on Louisiana non-resident licensing.
NOTE: Louisiana grants reciprocal licenses to adjusters who are licensed in their home state or adjusters who hold a Designated Home State (DHS) license, as long as the home or DHS state requires an examination.
Contact Info: Louisiana Adjuster License Requirements
To help with your examination scheduling, we have provided below information on Louisiana licensing requirements, its insurance department, and examination scheduling facilities.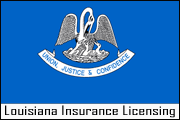 Louisiana Department of Insurance - Licensing DivisionAddress:
P.O. Box 94214 | Baton Rouge, LA 70804-9214
Phone:
225.342.0860
Fax:
225.342.3754
Website:
http://www.ldi.la.gov
Examination SchedulingProvider:
PSI Exams
Phone:
1.800.733.9267
Website:
http://www.psiexams.com
Good luck passing your Louisiana insurance adjuster licensing exam!
Other Insurance Licensing Courses For Louisiana:
Disclaimer
This information is based on state laws and regulations, and is subject to change. ABTrainingCenter makes every effort to make sure this information is current and accurate, however, ABTrainingCenter is not engaged in rendering legal or professional advice and shall not be held responsible for inaccuracies contained herein.