Long Term Care Training

Searching for Long Term Care training to help you suitably sell more Long Term Care Insurance policies to your senior clients and prospects? Then you've come to the right place!

ABTrainingCenter.com offers Long Term Care training courses to help Insurance Professionals become more proficient with the understanding and marketing of Long Term Care policies. We also provide training for selling long term care policies!

Long Term Care Insurance Training Courses

Long-Term Care (LTC) insurance covers a variety of medical and non-medical services for people who need care based upon disability, trauma, or chronic illness.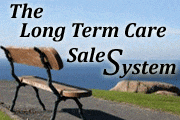 When one of these conditions limits an individual's ability to carry out basic self-care tasks (Activities of Daily Living or ADLs) such as dressing, bathing, and using the bathroom, LTC insurance benefits provide coverage for the necessary care of the insured.

About 60 percent people over age 65 will require some type of long-term care services during their lifetime. As such, this affords Insurance Professionals a seemingly endless supply of Long Term Care Insurance prospects to assist.

A Long Term Care policy can be an excellent strategy for some individuals, not such a good idea for others. Advisors/Agents need to exercise prudent suitability standards when making LTC policy recommendations. Thus, we offer a number of Long Term Care sales training courses and products to teach you how to properly position and sell Long Term Care policies.

Get the Long Term Care training you need to learn how to market to, present to, and close business with these senior prospects in your area!


Recommended Long Term Care Insurance Training Options

To find courses or programs to benefit you with Long Term Care training, simply click on any of the recommended courses below, or search under "Professional Development" in the search box thereafter for "Long Term Care".