Maine Insurance Adjuster License
Best-Selling Training Courses:
Online Training Courses
Instructor-Led: Webinars
Get Your Maine Insurance Adjuster License!
Becoming a Maine Claims Adjuster can be an appealing profession that can be quite lucrative. But before you can begin working as an Insurance Adjuster, you must first obtain your ME Insurance Adjuster License.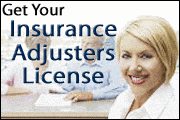 Obtaining an adjuster license in Maine is a fantastic way to break into the insurance business. You only have to be 18 to get a license, and there are no continuing education or certification requirements other than passing the Maine insurance adjuster exam.
If you are looking for a potentially rewarding job in the insurance business but do not want to become an insurance broker, or sell policies directly, a job as a Maine insurance adjuster may be perfect for you.
What Is an Insurance Claims Adjuster?
An insurance claims adjuster is probably the most hands-on job you can get in the insurance industry. Once the policies have been written and purchased and someone finally makes a claim, that is when you go to work. It is your job to go to the scene and interview the claimant and any witnesses to the event that triggered the claim. You investigate the scene and research the relevant policy provisions. Ultimately, you decide if there is a legitimate claim to be honored and just how much the claimant is entitled to under the policy. It is a vital and irreplaceable job in the insurance field.
How Do I Become a Maine Insurance Claims Adjuster?
To be a Maine insurance claims adjuster, you must take and pass the Maine insurance adjuster exam to receive your license. However, this can be an extremely challenging exam if you are not fully prepared. The good news here is that it is easy to be fully prepared thanks to online Maine adjuster license courses with Agent Broker Training Center.
We are famous for the level of our claims adjuster training in Maine and throughout the country. Our courses provide all the necessary information in an easy-to-understand and absorb way. To get started, click the link under "Recommended Training Courses" below.
Recommended Maine Adjuster Training Courses
Once you earn your license, you'll need help with the computer programs used to determine claim estimates. To assist with this need, we have included below a link to our Xactimate training course, which is the leading claims software program in the country.
Best-Selling Training Courses:
Online Training Courses
Instructor-Led: Webinars
Maine Adjuster Licensing Info
ME Adjuster License Requirements:
18 years of age or older

Pass the ME state exam administered by Pearson VUE Testing Centers

Complete the Maine Insurance Adjuster License application and submit with applicable fees

No Continuing Education is required
Non-Resident Maine Insurance Adjuster License
Non-resident applicants for a ME Adjuster License must submit an application. Please visit the
National Insurance Producer Registry
for more information on Maine non-resident licensing.
NOTE: MMaine grants reciprocal licenses to adjusters who are licensed in their home state. Maine will also accept a Designated Home State (DHS) license for adjusters whose home state does not license.
Contact Info: Maine Adjuster License Requirements
To help with your examination scheduling, we have provided below information on Maine licensing requirements, its insurance department, and examination scheduling facilities.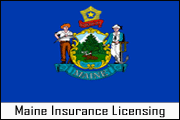 Maine Department of Insurance - Licensing DivisionAddress:
34 State House Station | Augusta, ME 04333-0035
Phone:
207.624.8475
Fax:
207.624.8599
Website:
http://www.maineinsurancereg.org
Examination SchedulingProvider:
Pearson VUE
Phone:
1.800.274.4959
Website:
http://www.pearsonvue.com/me/insurance/
Good luck passing your Maine P&C insurance licensing exam!
Other Insurance Licensing Courses For Maine:
Disclaimer
This information is based on state laws and regulations, and is subject to change. ABTrainingCenter makes every effort to make sure this information is current and accurate, however, ABTrainingCenter is not engaged in rendering legal or professional advice and shall not be held responsible for inaccuracies contained herein.