Maine Securities Licensing

AB Training Center has several securities training courses available for those in need of a Series 6, 7, or 63 license in the state of Maine.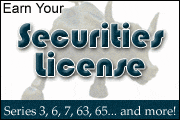 All of our courses are designed to help you prepare for the exams developed by the North American Securities Administrators Association (NASAA).The courses we offer are also provided in a number of different formats, including online training, seminars, audio recordings, and more.

Those who take are classes love having the chance to choose which formats work best for them, and by the time the exams come around they feel completely confident in the education they received that they are virtually worry free. There's no better time than now to try out our training courses.

Maine may be best known for its picturesque landscape along the Appalachian Mountains, but it also has a rapidly growing economy. Agriculture, textiles, bio-technology, food processing, electronic equipment, and lumber products make up the largest and most successful industries in the state. Because of this growing economy, the demand for securities training has also increased rapidly.

At AB Training Center, we have several courses readily available in Auburn, Augusta, Bangor, Lewiston, West Scarborough, and their surrounding areas. Please call us today to discover just how soon and how easily we can have you on your way to a securities training license.

Find Maine Securities License Exam Training

To find Series 7, Series 6, or Series 63 exam training in Maine, either click a Recommended Course below or use the search box. Good luck on your exam!