Maryland Insurance Adjuster License
Best-Selling Training Courses:
Online Training Courses
Instructor-Led: Webinars
Earn Your Maryland Insurance Adjuster License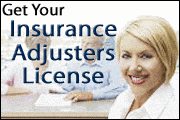 An insurance claims adjuster is an exciting and often lucrative profession in Maryland. Before embarking on a career as an insurance claim adjuster in Maryland, you may have to meet certain requirements. However, once you establish yourself, you will likely be very desirable to insurance companies because you will have valuable knowledge and skills that are crucial to their operation.
What Is An Insurance Claims Adjuster?
When someone makes an insurance claim, a professional needs to determine the value of that claim. That's where the insurance claims adjuster comes in. As an insurance claims adjuster, you present yourself as someone who has the knowledge and experience required to study the evidence and put a dollar value on the claimed event, if any. Every insurance company needs an adjuster, and private individuals may even hire an adjuster to independently verify the value of their claims.
How Do I Start Working As An Insurance Claims Adjuster In Maryland?
If you are interested in becoming a public adjuster in Maryland, it is important to understand the state does not license adjuster or provide an adjuster exam. Therefore, you must obtain certification as a non-resident insurance claims adjuster in another state and bring that license to your home state of Maryland.
We recommend that Maryland residents work to become a licensed independent adjuster and obtain a Designated Home State (DHS) License from Florida or Texas, and we provided non-resident insurance claims adjuster training, including our Texas All-Lines Adjuster Pre-Licensing Course and our Florida Certified Adjuster Designation Online Course.
These online courses are self-paced, so you can learn according to your own schedule and review as needed until you are fully prepared to pursue your insurance claims adjuster future. Lesson material is presented in a user-friendly format that is colorful, interactive, interesting, and relevant to adjusting practice in today's "real-world" of claims. Training covers:
Basics of Insurance Claims Adjusting
The Role of Insurance, the Adjuster, and Claims Practice
Laws & Rules that Affect Adjusters
Property and Liability Insurance Concepts
Personal and Commercial Automobile Insurance & Claims Handling
General, Professional, and Homeowners Liability Insurance & Claims Handling
Workers' Compensation Insurance & Claims Handling
Introduction to Property Insurance Adjusting and the Basic Adjusting Calculation
Personal and Commercial Property Insurance & Claims Handling
Maryland-specific Regulations
In addition to our insurance adjuster training courses, we also offer Xactimate training. Xactimate training can dramatically increase your appeal to insurance companies as a potential employee, as Xactimate is the nation's leading claims adjustment software. If you are considering a career as a public adjuster, you will be relying on Xactimate a great deal as well, so it is beneficial to learn as much as you can about how to optimize your use of it with this comprehensive course.
Recommended Maryland Adjuster License Training Courses
To find Adjuster pre-licensing courses, study guides, practice tests, and exam prep materials to permit you to work as an adjuster in Maryland, either click on one of the "Recommended Courses" below, or select "Adjuster" and your state from the "Licensing" section of the search box below.
And to help your career, we have also included a link below to our Xactimate training course, which is the leading claims software program in the country.
Best-Selling Training Courses:
Online Training Courses
Instructor-Led: Webinars
Find Seminars, Webinars, And Online Training In Your Area
How Do I Become a Maryland Insurance Claims Adjuster?
If you want to be able to work as an adjuster for an insurance company, Maryland residents interested in independent catastrophe adjusting should consider obtaining a Texas or Florida DHS adjuster license. For more information on becoming an Insurance Adjuster, contact the Maryland Insurance Department:
Maryland Department of Insurance - Licensing Division
Address: 200 St. Paul Place, Suite 2700| Baltimore, MD 21202
Phone: 800.492.6116
Website: http://www.mdinsurance.state.md.us
Other Insurance Licensing Courses For Your State:Disclaimer
This information is based on state laws and regulations, and is subject to change. ABTrainingCenter makes every effort to make sure this information is current and accurate, however, ABTrainingCenter is not engaged in rendering legal or professional advice and shall not be held responsible for any inaccuracies contained herein.