Maryland Securities Licensing

At AB Training Center, we offer a huge selection of classes for those seeking a series 6, 7, or 63 license or designation in Maryland.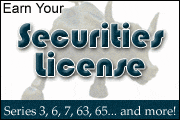 We have a variety of courses offered as self-study, seminars, online training, and even recorded webcasts are available. If you can't make it to a class, the recorded classes are a great way to catch up on what you've missed. Everyone has their own busy schedule and there's no better way to start or catch up on your education for your licensure than with the convenience we have to offer. We have exactly what you need and can get you started in virtually no time at all.

Tourism, agriculture, mining, and more make up the highly successful economy in Maine. In recent years, there has become a higher demand for securities training.

AB Training Center aims to accommodate those demands by offering a huge amount of courses in Baltimore, Columbia, Ellicott City, Germantown, Silver Spring, Waldorf, and other cities throughout the state. If interested, please contact us to find out how we can start helping you in your career journey today.

Find Maryland Securities Training Courses & Seminars

To find Series 7, Series 6, or Series 63 exam training in Maryland, either click a Recommended Course below or use the search box. Good luck on your exam!