Massachusetts Insurance Adjuster License
Best-Selling Training Courses:
Online Training Courses
Instructor-Led: Webinars
Massachusetts Insurance Adjuster Licensing Requirements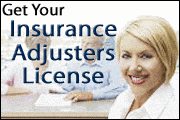 If you are looking for work in the insurance industry that is potentially lucrative and does not require you to sell insurance, you may find an insurance claims adjuster to be an ideal position. Insurance claims adjusters have specific skills and knowledge that both insurance companies and private individuals looking to establish the value of their claims need.
What Is An Insurance Claims Adjuster?
An insurance claims adjuster is the individual that the insurance company sends to the scene of the event that triggered a claim to determine the veracity and value of said claim. As an insurance claims adjuster, you interview those who witnessed the event as well as the claimant, examine the scene and do whatever else is required to assess the value of the claim under the claimant's policy.
How Do I Become A Massachusetts Insurance Claims Adjuster?
If you want to work auto claims in Massachusetts you will need an Auto Appraiser license. However, to work standard property claims, unlike most states, Massachusetts does not have a state-specific licensing requirement. That said, most insurance companies prefer to hire someone with a license and experience, so we recommend that you earn a Designated Home State license from Texas or Florida. Click the links below for courses for each of these licensing courses.
How Do I Start Working As An Insurance Claims Adjuster In Massachusetts?
If you are planning to be an insurance claims adjuster and work for an insurance company in Massachusetts, you will want to obtain a DHS license. This will require comprehensive claims adjuster training. In Massachusetts, you can get this training through one of our Agent Broker Training Courses.
Many seeking an adjuster license in Massachusetts have had great success with Agent Broker online training courses like the Texas All-Lines Adjuster Pre-Licensing Course and the Florida Certified Adjuster Designation Online Course. This will allow you to become a licensed independent adjuster with a Designate Home State (DHS) Licenses from either state thus making you more marketable for new job opportunities.
These online courses are self-paced, so you can learn according to your own schedule and review as needed until you are fully prepared to pursue your insurance claims adjuster future. Lesson material is presented in a user-friendly format that is colorful, interactive, interesting, and relevant to adjusting practice in today's "real-world" of claims. Training covers:
Basics of Insurance Claims Adjusting
The Role of Insurance, the Adjuster, and Claims Practice
Laws & Rules that Affect Adjusters
Property and Liability Insurance Concepts
Personal and Commercial Automobile Insurance & Claims Handling
General, Professional, and Homeowners Liability Insurance & Claims Handling
Workers' Compensation Insurance & Claims Handling
Introduction to Property Insurance Adjusting and the Basic Adjusting Calculation
Personal and Commercial Property Insurance & Claims Handling
Massachusetts-specific Regulations
You will also want to sign up for one of our live online Xactimate training courses. Insurance adjusters throughout the country rely on Xactimate software to manage their claims adjusting. This course provides a comprehensive walk-through from Xactimate experts to help you maximize your benefits from the program.
Recommended Massachusetts Claims Adjuster License And Auto Appraiser Training Courses
To find Massachusetts Adjuster pre-licensing courses, study guides, practice tests, and exam prep materials to permit you to work as an adjuster in Massachusetts, either click on one of the "Recommended Courses" below, or select "Adjuster" and your state from the "Licensing" section of the search box below.
And to help your career, we have also included a link below to our Xactimate training course, which is the leading claims software program in the country. Good luck earning your Massachusetts Insurance Adjuster license!
Best-Selling Training Courses:
Online Training Courses
Instructor-Led: Webinars
Massachusetts Adjuster Licensing Info
For more information on becoming an Insurance Adjuster, contact the Massachusetts Insurance Department:
Massachusetts Department of Insurance - Licensing Division
Address: 1000 Washington Street, Suite 810 | Boston MA 02118-6200
Phone: 617.521.7794, press 2
Website: http://www.mass.gov/doi
Other Insurance Licensing Courses For Your State:Disclaimer
This information is based on state laws and regulations, and is subject to change. ABTrainingCenter makes every effort to make sure this information is current and accurate, however, ABTrainingCenter is not engaged in rendering legal or professional advice and shall not be held responsible for any inaccuracies contained herein.