Massachusetts Securities Licensing

At AB Training Center, we have the courses you need in order to obtain your Series 7 and Series 6/63 licenses.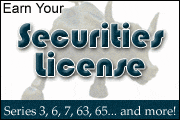 With our classes, you have the freedom of choosing seminars, self-study, online training, and even audio based learning. By being able to choose the type of class that you prefer, you'll have an easier way of gaining the education you need in order to pass the exams for your license. There's no better time than now to take full advantage of all the training courses we have to offer.

The state's economy may be as diverse and as vast as the history in Massachusetts. With successful industries in tourism, agriculture, textiles and clothing, leather production, and more, it's no wonder that Massachusetts is one of the most sought after states for real estate. With so much demand in every sector of the state, there has also been a high increase in those needing securities training and licenses.

AB training center currently offers courses in Boston, Cambridge, Lowell, New Bedford, Quincy, Springfield, and more. To find out more about the training courses we have to offer in your area, please contact us today.

Find Massachusetts Series 7 Training Courses

To find Series 7, Series 6, or Series 63 exam training in Massachusetts, either click a Recommended Course below or use the search box. Good luck on your exam!