Michigan Insurance Adjuster License
Best-Selling Training Courses:
Online Training Courses
Instructor-Led: Webinars
Get Your Michigan Insurance Adjuster License!
Becoming a Michigan Claims Adjuster can be an appealing profession that can be quite lucrative. But before you can begin working as an Insurance Adjuster, you must first obtain your Michigan Insurance Adjuster License.
Is it worthwhile to try to obtain a Michigan insurance adjuster license? If you want to work in the industry but aren't interested in working as a broker, obtaining an adjuster license in Michigan is probably the best way to proceed.
No matter how many brokers an insurance company has, they also need quality, qualified insurance adjusters to function. Taking on insurance claims adjuster training in Michigan and earning this license is a great way to expand your job prospects in the insurance field.
What Is An Insurance Claims Adjuster?
An insurance claims adjuster is like the insurance company's in-house private investigator. It is your job to examine claims to see if they are valid. You will visit the scene of the event that triggered the claim, interview witnesses, examine the evidence, do research and perform whatever investigations are required to determine if the claim is legitimate and how liable your insurance company is. It is one of the most important jobs in the insurance industry.
How Do I Become A Michigan Insurance Claims Adjuster?
Listed near the bottom of this page is a list of requirements to become an insurance claims adjuster in Michigan. The most important qualification is successful completion of the Michigan insurance adjuster exam. Fortunately, if you pass the exam, all you have to do is submit your fees and application to get your license. However, passing this test will not be easy. You will need to study for many hours to make sure you know all the relevant rules and information pertaining to insurance claims adjusting.
Agent Broker Training Center can help. We offer online Michigan adjuster license courses that feature everything you are likely to see on an adjuster license exam so that you will be fully prepared come test time. The material is presented in an easy-to-absorb way, and the online format allows you to study at your own pace. Find your Michigan adjuster training course by clicking the relevant link below.
Recommended Michigan Adjuster Training Courses And Exam Prep Materials
ABTrainingCenter offers Michigan adjuster licensing courses and exam prep materials to help you pass your Michigan Adjusters exam. Our Michigan Adjuster Exam Prep materials cover:
Adjusting Losses
Personal Homeowner Policies
Personal Auto Coverages
Commercial Buildings And Auto Policies
Flood Insurance
Marine Insurance
Michigan Workers' Compensation
Michigan-specific Regulations
To order this training, simply click on any of the recommended courses below or select "Michigan" from the "Licensing" section of the search box below. Good luck passing your Michigan Life & Health insurance licensing exam!
Extra: Once you earn your license, you'll need help with the computer programs used to determine claim estimates. To assist with this need, we have included below a link to our Xactimate training course, which is the leading claims software program in the country.
Best-Selling Training Courses:
Online Training Courses
Instructor-Led: Webinars
Find Seminars, Webinars, And Online Training In Your Area
Michigan Adjuster Licensing Info
MI Adjuster License Requirements:
18 years of age or older

Pass the MI state exam administered by PSI Testing Centers

Complete the Michigan Insurance Adjuster License application and submit with applicable fees

No Continuing Education is required
Non-Resident Michigan Insurance Adjuster License
Non-resident applicants for a MI Adjuster License must submit an application. Please visit the
National Insurance Producer Registry
for more information on Michigan non-resident licensing.
Note: Michigan grants reciprocal licenses to adjusters who are licensed in their home state or adjusters who hold a Designated Home State (DHS) license, as long as the home or DHS state requires an examination.
Contact Info: Michigan Insurance Adjuster License Requirements
To help with your examination scheduling, we have provided the information on Michigan licensing requirements, its insurance department, and examination scheduling facilities.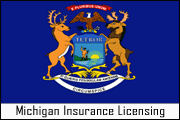 Office of Financial and Insurance Regulation | Licensing DivisionAddress:
PO Box 30220 | Lansing, MI 48909
Phone:
877.999.6442
Fax:
517.241.3953
Email:
ofir-licensing@michigan.gov
Website:
http://www.michigan.gov/ofir
Examination SchedulingProvider:
PSI Exams
Phone:
1.800.733.9267
Website:
http://candidate.psiexams.com/
Good luck passing your Michigan adjuster licensing exam!
Other Insurance Licensing Courses For Michigan:
Disclaimer
This information is based on state laws and regulations, and is subject to change. ABTrainingCenter makes every effort to make sure this information is current and accurate, however, ABTrainingCenter is not engaged in rendering legal or professional advice and shall not be held responsible for inaccuracies contained herein.