Michigan Life and Health Pre-Licensing
Earn Your Michigan Life and Health License!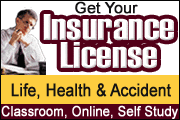 AB Training Center provides Michigan Life and Health Insurance License training and exam prep materials for individuals who wish to earn a Michigan Life and Health License. We offer in-person classes, online, and self-study training courses to satisfy the pre-licensing requirement for the state of Michigan.
Michigan Life and Health Insurance Pre-Licensing Courses
We offer Michigan Life & Health Insurance exam prep training in many formats including in-person live classroom training, online courses, and virtual classes. Click the applicable links below for details:
Education Requirements For a MI Life and Health License
In the state of Michigan, you must complete 40 hours of pre-licensing education prior to sitting for the
Michigan Life and Health insurance license state exam. For Life Only or Health Only, it is a 20 hour requirement.
To earn the license, you simply need to choose your preferred pre-licensing course from the list herein. Once you have successfully completed the course, you will receive a certificate of completion. That certificate is what you need to be able to schedule and sit for your state exam. To schedule your state exam, you will contact PSI Exam testing centers (1-800-733-9267) to find a location near you. Please note: it is suggested that you register at least 4-5 business days in advance.
Recommended Michigan Life And Health Insurance Courses And Exam Prep Materials
To find Michigan Life and Health insurance licensing courses and exam prep materials, simply select one of the combined licensing courses (meaning both Life AND Health) above or search below for one of our single line licensing courses (meaning Life OR Health). Good luck earning your Massachusetts Life & Health insurance license.
Find Seminars, Webinars, And Online Training In Your Area
Michigan Health and Life Insurance Exam Requirements
Once you have taken any needed life and health insurance courses in Michigan and fulfilled the requisite Michigan life and health prelicensing requirements, you are ready to take the Michigan life insurance exam, health insurance exam or combined lines exam. Note that you must pass the certification exam with a score of 70 percent or higher to be eligible for the state exam.
If you are just seeking a life insurance license in Michigan, your exam will consist of 100 multiple-choice questions in two hours. A score of 72 percent or greater is required for passing. For just a health insurance license in Michigan, you will take the Michigan accident and health producer examination. It consists of 100 questions. You will have two hours to finish, and you will need a 75 percent to pass.
The combined Michigan life, accident and health producer examination is a 150-question multiple-choice test that you have two and a half hours to complete. You must receive a 73 percent or greater to pass.
You can schedule your exam with PSI Exams. There is a fee of $40. When you arrive at the exam, be sure you have your certificate of prelicensing completion and two valid forms of government-issued I.D., including at least one photo I.D. You will find out if you passed immediately upon completion, at which point you can apply for your license at online at the National Insurance Producer Registry.
If you do not achieve a passing score, you will receive a diagnostic report that will outline your areas of improvement, which you can use to inform your studying for your next attempt at passing the examination.
Contact Info: Michigan Life And Health Insurance License Requirements
To help with your examination scheduling, we have provided below information on Michigan licensing requirements, its insurance department, and examination scheduling facilities.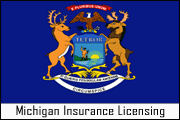 Office of Financial and Insurance Regulation | Licensing DivisionAddress:
PO Box 30220 | Lansing, MI 48909
Phone:
877.999.6442
Fax:
517.241.3953
Email:
ofir-licensing@michigan.gov
Website:
http://www.michigan.gov/ofir
Examination SchedulingProvider:
PSI Exams
Phone:
1.800.733.9267
Website:
http://candidate.psiexams.com/
Good luck passing your Michigan Life & Health insurance licensing exam!
Other Insurance Licensing Courses For Michigan:
Disclaimer
This information is based on state laws and regulations, and is subject to change. ABTrainingCenter makes every effort to make sure this information is current and accurate, however, ABTrainingCenter is not engaged in rendering legal or professional advice and shall not be held responsible for inaccuracies contained herein.