Minnesota Insurance Adjuster License
Best-Selling Training Courses:
Online Training Courses
Instructor-Led: Webinars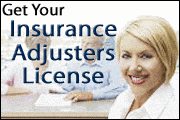 Minnesota Insurance Adjuster License Requirements
Becoming a Minnesota Claims Adjuster can be an appealing profession that can be quite lucrative. But before you can begin working as an Insurance Adjuster, you must first obtain your Minnesota Insurance Adjuster License.
Why try to earn a Minnesota insurance adjuster license? Being an insurance claims adjuster can be a great profession for those who are interested in how the insurance business works, but don't necessarily want to sit behind a desk drawing up policies all day. Every insurance company needs insurance claims adjusters, so if you earn an adjuster license in Minnesota, you could find yourself in great demand.
What Is An Insurance Claims Adjuster?
The insurance claims adjuster is the field agent of the insurance company, getting up and out to the site of the claim and investigating. As an insurance claims adjuster, the insurance company relies on you to collect the evidence and determine if the claim is valid and what sort of compensation the claimant is entitled to.
How Do I Become A Minnesota Insurance Claims Adjuster?
The nice thing for those looking to pursue a career in insurance claims adjusting in Minnesota is that there are not many requirements. However, the most important requirement will require your full effort to meet, and that is the Minnesota insurance adjuster exam. Studying for the exam in Minnesota with adjuster license courses that familiarize you with the type of information that you can expect to see is critical.
Most of those who pass the Minnesota insurance claims adjuster exam on the first try study for many hours, reviewing material and doing practice questions, before sitting for the exam. We recommend searching below for adjuster licensing courses from Agent Broker Training Center to maximize your preparation for this test.
We also have Xactimate software training, which will be very useful to you after you pass the test. In this day and age, every insurance claims adjuster is expected to be proficient with Xactimate - it is the leading claims adjuster software in the field. Our course can help you reach the level of proficiency you need with this software.
Recommended Minnesota Claims Adjuster Courses And Exam Prep Materials
To find Minnesota adjuster insurance licensing courses and exam prep materials, simply click on any of the recommended courses below or select "Adjuster" and your state from the "Licensing" section of the search box below.
Extra: Once you earn your license, you'll need help with the computer programs used to determine claim estimates. To assist with this need, we have included below a link to our Xactimate training course, which is the leading claims software program in the country. Good luck passing your Minnesota insurance adjuster licensing exam!
Best-Selling Training Courses:
Online Training Courses
Instructor-Led: Webinars
Find Seminars, Webinars, And Online Training In Your Area
Minnesota Adjuster Licensing Info
Minnesota Adjuster License Requirements:
18 years of age or older

Not have been involved in any activity that would cause license removal or suspension for three years before application

Pass the MN state exam administered by Pearson VUE

Complete the Minnesota Insurance Adjuster License application and submit with applicable fees

24 Hours Continuing Education is required every two years (3 hrs must be in Ethics)
Non-Resident Minnesota Insurance Adjuster License
Non-resident applicants for a MN Adjuster License must submit an application. Please visit the
National Insurance Producer Registry
for more information on Minnesota non-resident licensing.
NOTE: Minnesota grants reciprocal licenses to adjusters who are licensed in their home state. Minnesota will also accept a Designated Home State (DHS) license for adjusters whose home state does not license.
Contact Info: Minnesota Claims Adjuster Licensing Requirements
To help with your examination scheduling, we have provided below information on Minnesota licensing requirements, its insurance department, and examination scheduling facilities.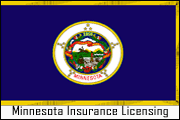 Minnesota Department of Insurance - Licensing DivisionAddress:
85 7th Place E. | St. Paul, MN 55101
Phone:
651.539.1500
Fax:
651.284.4107
Email:
licensing.commerce@state.mn.us
Website:
https://mn.gov/commerce
Examination SchedulingProvider:
PSI Exams
Phone:
1.800.733.9267
Website:
http://candidate.psiexams.com/registration/displayagencylicenses_home.jsp
Good luck passing your Minnesota insurance adjuster licensing exam!
Other Insurance Licensing Courses For Minnesota:
Disclaimer
This information is based on state laws and regulations, and is subject to change. ABTrainingCenter makes every effort to make sure this information is current and accurate, however, ABTrainingCenter is not engaged in rendering legal or professional advice and shall not be held responsible for inaccuracies contained herein.