Minnesota Securities Licensing

In Minnesota, there has been a growing demand for securities training. For those seeking a Series 7 license, we have the courses you need at AB Training Center.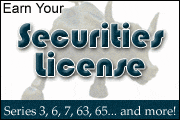 We have a variety of classes in several different formats from online training, audio versions, self-study, seminars, and more. There is definitely no shortage on choices for the courses you need in order to pass your exams to obtain the license you desire. All of our courses have been designed specifically with the requirements set forth by the North American Securities Administrators Association (NASAA), who created these exams. With our training you will gain the knowledge you need in order to pass these exams with complete confidence.

Minnesota has a diverse economy with industries in commerce, energy, production, and agriculture. Over the past few years, the demand for securities training has been at a steady climb.

Because of this, AB Training Center offers courses in Bloomington, Duluth, Eagan, Minneapolis, Plymouth, Saint Cloud, and their surrounding areas. If interested in any of our courses, please call us today to begin your path to success.

Find Minnesota Securities Exam Training

To find Series 7, Series 6, or Series 63 exam training in Minnesota, either click a Recommended Course below or use the search box. Good luck on your exam!