Mississippi Securities Licensing

In Mississippi, we offer a huge selection of securities training courses designed specifically for those in need of a Series 6 and 63 license.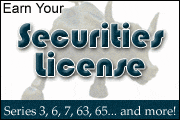 This training from AB Training Center is offered in a number of courses and is administered through self-study, seminars, and online training. All of our courses are designed to help you prepare for the exams developed by the North American Securities Administrators Association (NASAA). No matter how busy your schedule is, we have the perfect courses for you and your specific needs. By taking our courses, you can feel confident in know you'll gain the knowledge you need to pass the exams and be on your way to celebrating such an achievement.

Mississippi may be best known for the sprawling Mississippi River that winds through Vicksburg. It's because of this river that vessel merchants make up a very large part of the state's economy. There are also successful industries in almost every other sector, including a high demand for securities training.

AB Training Center now offers a huge selection of courses in Gulfport, Hattiesburg, Jackson, Southaven, Vicksburg, and more. Contact us today to find out about every course and opportunities we have to offer.

Find Mississippi Securities License Training

To find Series 7, Series 6, or Series 63 exam training in Mississippi, either click a Recommended Course below or use the search box. Good luck on your exam!