Montana Insurance Adjuster Licensing Info
Best-Selling Training Courses:
Online Training Courses
Instructor-Led: Webinars
Earn Your Montana Insurance Adjuster License!
What Is An Insurance Claims Adjuster?
A Montana insurance adjuster license is a great way to get into the world of the insurance industry without having to actually sell insurance. Insurance claims adjusters are the detectives of the insurance world, heading to the scene of the claim to investigate that claim's worthiness. If you have an insurance adjuster license in Montana, insurance companies rely on you to make sure the claims brought against them are legitimate and that they are paid out properly.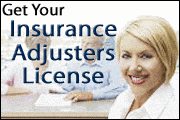 Montana Insurance Adjuster License Requirements
A Montana Claims Adjuster is an appealing profession that can be quite lucrative. But before you can begin working as an Insurance Adjuster, you must first obtain your Montana Insurance Adjuster License.
How Do I Become A Montana Insurance Claims Adjuster?
You can find the basic requirements for becoming a Montana insurance claims adjuster at the bottom of this page. The main one to make note of is that you will need to pass the Montana insurance adjuster exam. This is a requirement you want to take seriously because it can be difficult to pass this exam without the proper claims adjuster training.
Montana residents can take advantage of our Montana online prep course to fully prepare them for the state exam in Montana. Adjuster license courses with Agent Broker Training Center are known to dramatically increase an applicant's chances of passing their insurance licensing exam on the first try.
In addition to claims adjuster courses, we also feature a live Xactimate course online. If you are in or interested in getting into property claims adjusting, you must know Xactimate, and now is the time to learn. Our course is comprehensive and taught by experts who will make you an Xactimate expert by the time the course is done.
Recommended Montana Adjuster Licensing Courses And Exam Prep Materials
To find Montana Adjuster pre-licensing courses, study guides, practice tests, and exam prep materials either click on one of the "Recommended Courses" below, or select "Adjuster" and your state from the "Licensing" section of the search box below.
Also Available: Xactimate Training Courses
In addition to our adjuster course, you will also want to sign up for one of our online Xactimate software trainings. Xactimate is the leading claims estimation software used in the industry today, and you will want to have thorough familiarity with it, which our course will provide.
Best-Selling Training Courses:
Online Training Courses
Instructor-Led: Webinars
Montana Insurance Adjuster License Requirements
Montana Adjuster License Requirements:
18 years of age or older

Be a resident of Montana or of a state that allows Montana residents to act as adjusters in that state

Be trustworthy and of good character and reputation

Maintain an office accessible to the public in Montana with records of transactions made under the license

Pass the MT state exam administered by Pearson VUE Testing Centers

Complete the Montana Insurance Adjuster License application and submit with applicable fees

Submit fingerprints and undergo basic background check

24 hours of CE are required every 2 years. 3 hours must be in Ethics and 1 hour must be Legislative Updates
Non-Resident Montana Insurance Adjuster License
Non-resident applicants for a MT Adjuster License must submit an application. Please visit the
National Insurance Producer Registry
for more information on Montana non-resident licensing.
NOTE: Montana grants reciprocal licenses to adjusters who hold a license in their home state. Montana will also accept a Designated Home State (DHS) license for adjusters whose home state does not license.
Contact Info For Your Montana Claims Adjuster Licensing Exam
To help with your examination scheduling, we have provided below information on Montana licensing requirements, its insurance department, and examination scheduling facilities.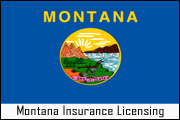 Montana Department of Insurance - Licensing DivisionAddress:
840 Helena Avenue | Licensing Division | Helena, MT 59601
Phone:
406.444.2040
Fax:
406.444.3497
Website:
https://csimt.gov/insurance/licensing
Examination SchedulingProvider:
Pearson VUE
Phone:
1.888.274.8906
Website:
http://www.asisvcs.com/indhome.asp?CPCAT=1227INS
Good luck passing your Montana Claims Adjuster insurance licensing exam!
Other Insurance Licensing Courses For Montana:
Disclaimer
This information is based on state laws and regulations, and is subject to change. ABTrainingCenter makes every effort to make sure this information is current and accurate, however, ABTrainingCenter is not engaged in rendering legal or professional advice and shall not be held responsible for inaccuracies contained herein.