Nevada Securities Licensing

AB Training Center offers an array of courses to those needing a Series 6, Series 7, or Series 63 license in Nevada.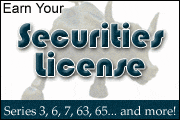 No matter if you're a resident or just working in the state, we can help you obtain your licensure in no time.

All of our courses are designed to help you pass the exams developed by the North American Securities Administrators Association (NASAA). Our courses are offered in several different formats including seminars, online training, and self-study. You also have the convenience of choosing which format works best for you and your hectic schedule. With so many courses to choose from, you can be on your way to a very successful career with the specific training and license you need.

Tourism is the biggest industry for the state's economy, mostly concentrated in Reno and Vegas. Each year, more hotels and casinos are being built to serve that increasing demand. Securities training has also seen a larger interest in our courses and has developed an even bigger curriculum to suit those needs.

We currently offer a huge selection of courses in Henderson, Las Vegas, Paradise, Reno, Sunrise Manor, and more. Please call us today to get started on the path to success for your specific desires.

Find Nevada Series 6, Series 7, & Series 63 Training Classes

To find Series 7, Series 6, or Series 63 exam training in Nevada, either click a Recommended Course below or use the search box. Good luck on your exam!