New Hampshire Insurance Adjuster License Training & Exam Prep
Best-Selling Training Courses:
Online Training Courses
Instructor-Led: Webinars
Earn Your New Hampshire Insurance Adjuster License With Our New Hampshire Exam Prep Materials
Becoming a New Hampshire Claims Adjuster can be an appealing profession that can be quite lucrative. But before you can begin working as an Insurance Adjuster, you must first obtain your NH Insurance Adjuster License.
What Is An Insurance Claims Adjuster?
If you think you may be interested in the insurance field but selling policies isn't quite for you, obtaining a New Hampshire insurance adjuster license could be the next logical move. The insurance claims adjuster is the in-house investigator for the insurance company. You are a detective - interviewing witnesses, investigating the scene of the incident and doing research to figure out which claims brought against the company are legitimate and which aren't. You'll also determine how much legitimate claims are actually worth.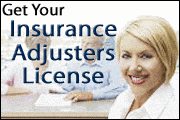 By earning an insurance adjuster license in New Hampshire, you make yourself an invaluable and often well-paid part of any insurance company's team.
How Do I Become a New Hampshire Insurance Claims Adjuster?
Your primary obstacle to becoming a claims adjuster is the New Hampshire insurance adjuster exam. This is a state exam that covers everything you need to know as an insurance adjuster in New Hampshire. You should have little difficulty passing this exam with the help of claims adjuster training for New Hampshire licensing with Agent Broker Training Center.
We offer online New Hampshire adjuster license courses designed to fully prepare you for this exam, with comprehensive study materials and a course that is created by experts in the field. If you are willing to put in the hours, we will give you the tools to pass this exam.
Recommended New Hampshire Adjuster Licensing Courses And Exam Prep Materials
To find New Hampshire Adjuster courses, study guides, practice tests, and exam prep materials, either click on one of the "Recommended Courses" below, or select "Adjuster" and your state from the "Licensing" section of the search box below.
Also Available: Xactimate Training Courses
All of the best insurance claims adjusters use Xactimate in their work, as it is the established standard when it comes to claims software. Our live online training course will walk you through the program and make sure you know everything you need to maximize its benefits. This is information you could potentially use every single day in your work as an insurance claims adjuster.
Best-Selling Training Courses:
Online Training Courses
Instructor-Led: Webinars
Find Seminars, Webinars, And Online Training In Your Area
New Hampshire Adjuster Licensing Info
New Hampshire Insurance Adjuster Licensing Requirements
:
18 years of age or older

Pass the NH state exam administered by Prometric Testing Centers

Complete the New Hampshire Insurance Adjuster License application and submit with applicable fees

20 hours of continuing education are required every two years
Non-Resident New Hampshire Insurance Adjuster License
Non-resident applicants for a NH Adjuster License must submit an application. Please visit the
National Insurance Producer Registry
for more information on New Hampshire non-resident licensing.
NOTE: New Hampshire grants reciprocal licensing privileges to anyone holding a license from their home state. If your home state does not license adjusters, you must have six months adjusting experience.
Contact Info For Your New Hampshire Claims Adjuster Licensing Exam
To help with your examination scheduling, we have provided below information on New Hampshire licensing requirements, its insurance department, and examination scheduling facilities.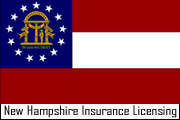 New Hampshire Department of Insurance - Licensing DivisionAddress:
21 South Fruit St. Suite 14 | Concord, NH 03301
Phone:
603.271.0203
Fax:
603.271.7029
Website:
https://www.nh.gov/insurance/producers/license.htm
Examination SchedulingProvider:
Prometric
Phone:
1.800.869.6603
Website:
http://www.prometric.com/NewHampshire/Insurance.htm
Good luck passing your Claims Adjuster insurance licensing exam!
Other Insurance Licensing Courses For New Hampshire:
Disclaimer
This information is based on state laws and regulations, and is subject to change. ABTrainingCenter makes every effort to make sure this information is current and accurate, however, ABTrainingCenter is not engaged in rendering legal or professional advice and shall not be held responsible for inaccuracies contained herein.