New Hampshire Securities Licensing

For those needing a Series 6, 7, or 63 license in New Hampshire, AB Training Center has a great variety of courses to aid you in attaining that goal.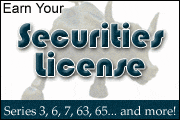 Each one of our courses are designed to help you prepare for the exams developed by the North American Securities Administrators Association (NASAA) and are available in self-study formats, seminars, online training and more. By having a choice between the type of courses you can take, it helps you gain confidence in your abilities and makes learning a more fun and relaxed experience for you. By taking our courses, you will obtain the education and assurance you need in order to achieve the license of your choice.

New Hampshire has a very diverse economy for its size. The state is a major distribution, manufacturing, electricity, industrial, and transportation hub. It also has another large contributor in tourism, which brings in a huge amount of money for the state each year. With all of it's diversity, New Hampshire also has room for a growing interest in securities training. The demand for these designations has really increased in the past few years.

AB Training Center offers a great selection of these training courses for those in Concord, Derry Village, Dover, Manchester, Washua, and surrounding areas. Give us a call today to take advantage of all of our amazing deals and terrific classes.

Find New Hampshire Securities Training Classes

To find Series 7, Series 6, or Series 63 exam training in New Hampshire, either click a Recommended Course below or use the search box. Good luck on your exam!