New Mexico Securities Licensing

At AB Training Center we offer a large number of courses for those in need of obtaining a Series 6, 7, or 63 license in New Mexico.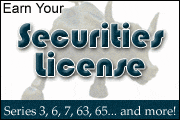 We have many different formats including online training, seminars, self-study, and webcasts. With so many choices, you can decide which type of class works best for you to ensure that you will get the greasest chance to prepare for your license exam. All of our courses are designed to help you gain the education and confidence you need in order to receive your license and be on your way to a more successful career.

New Mexico's economy is extremely diverse with industries in petroleum, coal, stone, glass, clay, electricity, printing, publishing, and tourism as huge contributors. With all of these different businesses, securities training has started to see a steady climb in its demand.

Courses are available in Albuquerque, Las Cruces, Rio Rancho, Sante Fe, Roswell, Hobbs and surrounding areas. Please give us a call to see what we can do for you today.

Find New Mexico Series 7 License Exam Training Courses

To find Series 7, Series 6, or Series 63 exam training in New Mexico, either click a Recommended Course below or use the search box. Good luck on your exam!