New York Securities Licensing

At AB Training Center, we offer a huge selection of classes for those seeking a Series 6, 7, or 63 License in New York.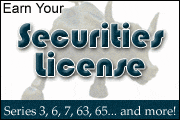 We have a large selection of courses offered in several formats including self-study, seminars, online training, and even OnDemand versions are available. If you can't make it to a class, the recorded classes are an excellent way to catch up on what you've missed. Everyone has their own hectic schedule and there's no better way to start or catch up on your education for your licensure than with the convenience we can offer you. Today is the day to take charge of your career with our amazing training courses.

New York's economy is the 16th largest world-wide and is made up mostly of industry, commerce, agriculture, microchip manufacturing, energy, production, and it's biggest contributor is tourism. The state is also home to several huge corporations and Fortune 500 companies that makes it essential to have this license.

AB Training Center has so many training courses for you to choose from available in Brooklyn, Buffalo, Manhattan, Rochester, Staten Island, and other areas all throughout the state. To start your classes or to learn more about the training we have to offer, please contact us today. We'll find you the best fit for your specific needs.

Find New York FINRA Series 6 & 63, Series 7 License Exam Training

To find FINRA Series 6 & 63, Series 7 License Exam Training in New York either click a Recommended Course below or use the search box.