Ohio Securities Licensing

At AB Training Center, we offer a huge selection of classes for those seeking a series 6, Series 7, or Series 6/63 license or designation in Ohio.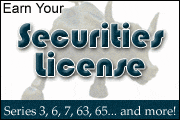 We have a variety of courses available as self-study, seminars, online training, and even recorded webcasts are offered. If you happen to miss attending a class, the recorded classes are a fantastic way to never fall behind in classes. Everyone has their own schedule and there's no better way to start or catch up on your education for your licensure than with the convenience we have to offer. With all of our classes, we can meet all your specific needs in order for you to achieve that license.

Ohio is known as the 'Birthplace of Aviation', and even to this day aerospace is still a huge contribution to the state's economy. Other industries include energy, defense, and agriculture. Securities training has seen an increase in demand for the past few years and AB Training Center has designed the available courses aimed specifically for these needs.

We have a variery of these classes in Akron, Cincinatti, Cleveland, Columbus, Toledo, and in other cities state-wide. Please give us a call today to discover how all of our courses can help you in your career and personal goals.

Find Ohio Series 7 Securities License Training

To find Series 7, Series 6, or Series 63 exam training in Ohio, either click a Recommended Course below or use the search box. Good luck on your exam!