Oklahoma Insurance Adjuster License Training & Exam Prep Classes
Best-Selling Training Courses:
Online Training Courses
Instructor-Led: Webinars
Earn Your Oklahoma Insurance Adjuster License!
Becoming a Oklahoma Claims Adjuster can be an appealing profession that can be quite lucrative. But before you can begin working as an Insurance Adjuster, you must first obtain your Oklahoma insurance adjuster license.
Agent Broker Training Center offers online training to help prepare you for the Oklahoma Adjuster exam so you can earn your OK Adjuster license.
How To Become A Resident Insurance Claims Adjuster In Oklahoma
For claims adjuster training in preparation for the exam, register for Oklahoma adjuster license courses available from Agent Broker Training Center (see below). These are comprehensive classes designed by insurance claims experts to help you pass the exam as soon as possible. Once you have studied sufficiently, sign up for your adjuster exam by contacting Prometric Testing online.
When you complete your exam, you will receive an email with your overall score. If you pass, you can apply for your license online right away. There is an application fee of $30 for one line of authority or $50 for two or more lines of authority. You should receive notification that you have been accepted for a license within five days. You can also check your license status online with the OK Dept. of Insurance.
Recommended Oklahoma Adjuster Licensing Courses, Study Guides, And Exam Prep Materials
AB Training Center provides approved Oklahoma Adjuster training classes, study guides, and exam prep materials needed to obtain your Oklahoma Insurance Adjuster license. We have everything you need to prepare yourself for the Oklahoma Claims Adjuster exam. Simply select from the recommended courses below, or search under "Oklahoma" in the search box thereafter for "Insurance-Adjusters".
Also Available: Xactimate Training Courses
We also have courses to help you familiarize yourself with Xactimate software. If you aren't familiar with Xactimate already, you'll know all about it once you start working as an adjuster. This is critical claims estimating software and we can show you how to use it the right way.
Best-Selling Training Courses:
Online Training Courses
Instructor-Led: Webinars
Find Seminars, Webinars, And Online Training In Your Area
Licensing Info For How To Become An Oklahoma Adjuster
Below is information on the licensing requirements for becoming an Oklahoma Insurance Adjuster, its insurance department, and examination scheduling facilities.
Oklahoma Adjuster License Requirements:
18 years of age or older

Pass the OK state exam administered by Prometric Testing Online

Complete the Oklahoma Insurance Adjuster License application and submit with applicable fees

24 hours of CE are required every two years (3 hrs in Ethics)
Non-Resident Oklahoma Insurance Adjuster License
Non-resident applicants for a OK Adjuster License must submit an application. Please visit the
National Insurance Producer Registry
for more information on Oklahoma non-resident licensing.
NOTE: Oklahoma grants reciprocal licenses to adjusters who are licensed in their home state, except CA, HI, NM, NV, & NY. Oklahoma will also accept a Designated Home State (DHS) license for adjusters whose home state does not license.
Contact Info For Your Oklahoma Claims Adjuster Licensing Exam
To help with your examination scheduling, we have provided below information on Oklahoma licensing requirements, its insurance department, and examination scheduling facilities.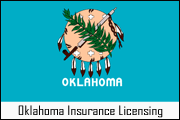 Oklahoma Department of Insurance - Licensing DivisionAddress:
P.O. Box 53408 | Oklahoma City, OK 73152-3408
Phone:
405.521.3916
Fax:
405.522.3642
Website:
http://www.ok.gov/oid/Licensing_and_Education/index.html
Examination SchedulingProvider:
Prometric Testing
Phone:
888.597.8223
Website:
https://www.prometric.com/en-us/clients/insurance/Pages/oklahoma.aspx
Good luck passing your Claims Adjuster insurance licensing exam!
Other Insurance Licensing Courses For Oklahoma:
Disclaimer
This information is based on state laws and regulations, and is subject to change. ABTrainingCenter makes every effort to make sure this information is current and accurate, however, ABTrainingCenter is not engaged in rendering legal or professional advice and shall not be held responsible for inaccuracies contained herein.