Oklahoma Securities Licensing

Oklahoma has seen an increasing number of people seeking a Series 6, 7, or 63 license in the past few years. AB Training Center offers a huge variety of securities training courses, each one of which are available in different formats for your convenience.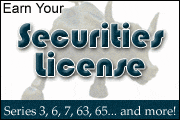 We have class formats in online training, seminars, self-study, and more. Every class is designed to equip you with the education and confidence you need in order to pass your exams for licensure.

Oklahoma's economy is made up mostly of agriculture, but it also has large contributors such as manufacturing, natural gas, oil, real estate, and retail.

For the growing demand for securities training, AB Training Center has a huge selection of courses readily available in Broken Arrow, Lawton, Moore, Norman, Oklahoma City, Stillwater, Tulsa, and the surrounding areas. For information or to sign up for our amazing courses, please contact us today.

Find Oklahoma Securities Training

To find Series 7, Series 6, or Series 63 exam training in Oklahoma, either click a Recommended Course below or use the search box. Good luck on your exam!