Oregon Series 7 & Securities License Training Courses

At AB Training Center, we offer a huge selection of classes for those seeking a Series 6, Series 7, or Series 63 License in Oregon.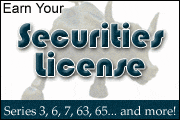 We have a variety of courses and formats including self-study, seminars, online training, and even OnDemand versions are available. If you can't make it to a class, the recorded classes are a great way to catch up on what you've missed. Everyone has their own busy schedule and there's no better way to start or catch up on your education for your licensure than with the convenience we have to offer. It's as simple as deciding what you want and going for it here at AB Training Center.

Oregon's economy is made up of agriculture, mining, services (hotels, insurance), and more. Tourism is one of the biggest and most successful industries for the state and looks to be at the height of it's steady climb.

Each year, the number of visitors for the state increases at a speeding rate. With breathtaking landscapes and countless activities to for everyone to enjoy, it looks like the demand for securities training will also continue to rise. Be ahead of the game by obtaining a license through the training courses offered by AB Training Center today!

Find Oregon Security Licensing Training

To find Series 7 & Securities license training in Oregon, either click a Recommended Course below or use the search box.