Pennsylvania Securities Licensing

At AB Training Center, we have a great selection of securities training courses available in Pennsylvania if you're wanting to obtain a Series 6, 7, and/or 63 license.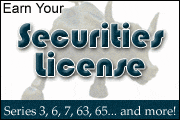 Our courses come in a variety of formats from seminars, online training, self-study, and even OnDemand versions. For those with a busy schedule, you don't have to worry about making time for classes. With AB Training, our courses work around the times you're most available. Our courses are made specifically to help you excel in the education you need in order to pass the exams, receive your license, and move on to a more successful part of your life.

Pennsylvania has an extremely varied economy with successful industries in banking, gambling, film, production, energy, agriculture, tourism, and several more. The state's economy is growing at a rapid pace, and so is the demand for securities training.

AB Training Center offers a great selection of courses in Allentown, Bethlehem, Erie, Lancaster, Pittsburgh, Philadelphia, Reading, and other cities across the state. Please call us today to find out about all of our different classes and how they can start helping you achieve your dreams.

Find Pennsylvania Securities License Exam Training

To find Series 7, Series 6, or Series 63 exam training in Pennsylvania, either click a Recommended Course below or use the search box. Good luck on your exam!