Rhode Island Insurance Adjuster License Training & Exam Prep
Best-Selling Training Courses:
Online Training Courses
Instructor-Led: Webinars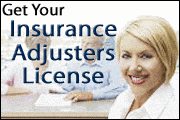 Earn Your Rhode Island Insurance Adjuster License!
To become a Rhode Island claims adjuster, you need an insurance claims adjuster license. This means you must pass the appropriate insurance adjuster exam.
Therefore, if you are looking for claims adjuster training for the Rhode Island adjuster licensing exam, you've come to the right place. Agent Broker Training Center offers multiple adjuster license courses for Rhode Island residents. Find the courses you need by clicking the links at the bottom of the page.
What Does A Claims Adjuster Do?
An Adjuster inspects property damage or personal injury claims to determine how much the insurance company should pay for the loss. They might inspect a home, a business, or a vehicle to determine how much the insurance company should pay out.
Though the process for reviewing a home versus a car claim may very somewhat, to determine the amount of payout, an Adjuster might interview the claimant and/or witnesses, inspect the damaged property, do additional research such as look at photos, police reports, or doctor/hospital records, evaluate damage, ascertain payout amount, and communicate with the insurance agent and/or client. Adjusters will typically:
Verify an insurance policy exists for the insured person and/or property
Evaluate the covered injuries and/or damages
Complete applicable paperwork
Negotiate a settlement according to the applicable law(s), and identify coverages for which the insured is covered, following best insurance practices
Steps For Earning Your Insurance Claims Adjuster License In Rhode Island
While Rhode Island does not require a pre-licensing course, we recommend completing a Rhode Island Exam Prep Course to ensure passing the state exam.
Select the appropriate Rhode Island Adjuster course from the links below
Resister for the Rhode Island adjuster exam with Pearson VUE
Obtain a Criminal Background Report from the Rhode Island Attorney General's office
Submit your adjuster application through NIPR and check your status with the RI Dept. of Insurance
Recommended Rhode Island Adjuster Licensing Courses, Study Guides, And Exam Prep Materials
AB Training Center provides approved Rhode Island Adjuster training copurces, study guides, and exam prep materials needed to obtain your Rhode Island Insurance Adjuster license. We have everything you need to prepare yourself for the Rhode Island Claims Adjuster exam. Simply select from the recommended courses below, or search under "Licensing" in the search box thereafter for "Insurance-Adjusters".
Also Available: Xactimate Training Courses
We also have courses to help you familiarize yourself with Xactimate software. If you aren't familiar with Xactimate already, you'll know all about it once you start working as an adjuster. This is critical claims estimating software and we can show you how to use it the right way.
Best-Selling Training Courses:
Online Training Courses
Instructor-Led: Webinars
Licensing Info For How To Become An Rhode Island Adjuster
Below is information on the licensing requirements for becoming an Rhode Island Insurance Adjuster, its insurance department, and examination scheduling facilities.
Rhode Island Adjuster License Requirements:
18 years of age or older

Pass the RI state exam administered by Pearson VUE Testing Centers

Complete the Rhode Island Insurance Adjuster License application and submit with applicable fees

No Continuing Education is required
Non-Resident Rhode Island Insurance Adjuster License
Non-resident applicants for a RI Adjuster License must submit an application. Please visit the
National Insurance Producer Registry
for more information on Rhode Island non-resident licensing.
NOTE: Rhode Island grants reciprocal licenses to adjusters who are licensed in their home state or adjusters who hold a Designated Home State (DHS) license, as long as the home or DHS state requires an examination.
Contact Info For Your Rhode Island Claims Adjuster Licensing Exam
To help with your examination scheduling, we have provided below information on Rhode Island licensing requirements, its insurance department, and examination scheduling facilities.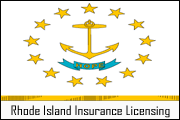 Rhode Island Department of Business Regulation - Insurance DivisionAddress:
1511 Pontiac Avenue, Bldg 69-2 | Cranston, RI 02920
Phone:
401.462.9520
Fax:
401.462.9559
Website:
http://www.dbr.state.ri.us
Examination SchedulingProvider:
Pearson VUE
Phone:
1.800.274.3739
Website:
http://www.asisvcs.com/indhome.asp?CPCAT=1240INS
Good luck passing your Claims Adjuster insurance licensing exam!
Other Insurance Licensing Courses For Rhode Island:
Disclaimer
This information is based on state laws and regulations, and is subject to change. ABTrainingCenter makes every effort to make sure this information is current and accurate, however, ABTrainingCenter is not engaged in rendering legal or professional advice and shall not be held responsible for inaccuracies contained herein.