Rhode Island Securities Licensing

For those needing a Series 6, 7, or 63 license in Rhode Island, AB Training Center has a great variety of courses to help you in completing that goal.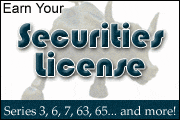 All of our classes are designed to help you prepare for the exams developed by the North American Securities Administrators Association (NASAA) and are available in self-study formats, seminars, online training and more. By having a choice between the type of courses you can take, it helps you feel more confident in your abilities and makes learning a much more fun and relaxed experience. By taking our courses, you will gain the education and assurance you need in order to achieve the license of your choice.

Rhode Island's economy is made up of primarily industry, mining, forestry, agriculture, and fishing. In the past few years, the state's economy has been rapidly growing and expanding. Securities training has also seen an increase in demand and AB Training Center has developed a curriculum to suits those needs.

We offer courses in Cranston, Pawtucket, Providence, Warwick, Woonsocket, and several more. Call us today to find out how we can help you begin your journey to a securities training license.

Find Rhode Island Securities Training

To find Series 7, Series 6, or Series 63 exam training in Rhode Island, either click a Recommended Course below or use the search box. Good luck on your exam!