Are You Looking For Steps To Obtain A Series 10 License?

Then you've come to the right place!

By taking and passing the Series 10 test, you will be qualified by the Financial Industry Regulatory Authority (FINRA), previously the National Association of Securities Dealers (NASD), as an General Sales Supervisor. The Series 9/10 exam covers the following major topics: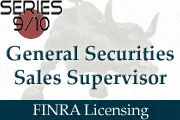 Option and Municipal Supervision

Sales Supervision

Primary and Secondary Markets

Financial Responsibility

Investment Companies and Retirement Plans
The exam is a 200-question, multiple choice test. You must receive 70% or higher in order to receive your FINRA Series 9/10 license. It is suggested that you study your materials for 5-6 weeks before sitting for the exam.

To assist with your studies, ABTrainingCenter.com offers a variety of exam prep and training options to study for your Series 10 exam. These include Series 9/10 online training, and Series 10 test prep materials. Our online Series 9/10 test prep seminars are a must for anyone wanting to pass the Series 9/10 on the first try!

Available Training Options for Series 9/10 Exam

To find Series 9/10 training, simply click on any of the recommended courses below, or search under "Licensing" in the search box thereafter for "Series 10".

Good luck with your Series 10 exam!