FINRA Series 24 License
Best-Selling Training Courses:
Online Training Courses
How To Earn A FINRA Series 24 License
Searching for Series 24 training and help passing your FINRA Series 24 exam? Then you've come to the right place!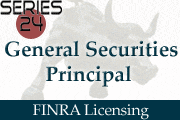 What Is A FINRA Series 24 License?
The General Securities Principal Qualification Examination, commonly referred to as the Series 24 exam, qualifies a registered individual to supervise or manage branch activities such as corporate securities, REITs, variable contracts, and venture capital. A general principal may also approve advertising and sales literature, including communications regarding municipal securities.
A Series 24 license does not qualify an individual to function as a:
Registered options principal - Series 4
General securities sales supervisor for options and municipal securities - Series 9
Municipal securities principal - Series 53
Municipal fund securities principal - Series 51
Financial and operations principal - Series 27
Introducing broker/dealer financial and operations principal - Series 28
Is The FINRA Series 24 License A Prerequisites For The Series 9/10 Exam?
In order to be eligible for a principal registration, a candidate must pass the Series 24,
SIE
and one of FINRA's following representative-level exams: Series 7, 57, 79, 82, or 86/87.
What Is On The Series 24 Exam?
The Series 24 exam is administered by the Financial Industry Regulatory Authority (FINRA) and covers topics such as supervision of investment banking, trading, customer accounts, and the primary/secondary markets. The examination contains 150 scored questions and 10 questions that are not scored. The 10 questions that are not scored are randomly distributed through the exam. To successfully pass the exam, a candidate must correctly answer at least 105 questions of the 150 scored questions (70%). You will have 3 hours and 45 minutes to complete the exam.
The Series 24 exam covers the five main job functions of a general securities principal:
Supervision of registration of broker-dealer and personnel management activities
Supervision of general broker-dealer activities
Supervision of retail and institutional customer-related activities
Supervision of trading and market making activities
Supervision of investment banking and research
Recommended Series 24 Licensing Courses & Available Training Options
ABTrainingCenter.com offers online Series 24 training, in-person Series 24 seminars, and Series 24 self-study program to help earn a Series 24 license.
To find training for earning your FINRA Series 24 license, simply click on any of the recommended courses below, or search under "Licensing/Designations" in the search box thereafter for "Series 24". Good luck earning your Series 24 license!
Best-Selling Training Courses:
Online Training Courses
Find Seminars, Webinars, And Online Training In Your Area
Looking For Other Securities Licensing Courses?

AB Training Center offers a number of FINRA / securities licensing courses and/or information on successfully passing your exams, including: