FINRA Series 3 Licensing And Exam Prep Courses
Best-Selling Training Courses:
Online Training Courses
How To Earn Your FINRA Series 3 License!
Searching for FINRA Series 3 license training courses to help you pass your Series 3 exam? Then you've come to the right place!
The Series 3 is a securities license entitling the holder to sell commodities futures contracts and options on commodities futures contracts. Passing the Series 3 test allows anyone in the U.S. the right to offer alternative investments in commodities and futures securities.
What Is A FINRA Series 3 License?
The Series 3 examination is the all-encompassing test that is required by the National Futures Association (NFA) in order to be considered a commodities and futures professional.
The National Commodities Futures Exam (Series 3) is required of individuals who: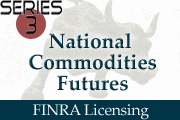 Offer or solicit business in futures or options on futures at a futures commission merchant (FCM) or introducing broker (IB) or who supervise any such person

Are associated with a commodity trading advisor (CTA) who solicits discretionary accounts or who supervises persons so engaged

Are associated with a commodity pool operator (CPO) who solicits funds for participation in a commodity pool or who supervises such persons
Do You Have To Be Sponsored To Take The Series 3?
No, you have to be sponsored to take the Series 3 like you might if you decided to take a test to qualify for some other financial services jobs. You don't even need a high school diploma.
What Is On The FINRA Series 3 License Exam?
The first part of the Series 3 exam covers the basics of the futures markets. You'll need to understand futures contracts, hedging, speculating, futures terminology, futures options, margin requirements, types of orders, basic fundamental analysis, basic technical analysis and spread trading. The exam will test your understanding of theory and ability to calculate the results of a trade from a profit and loss and margin perspective.
The second part of the Series 3 exam consists of market regulations. The underlying goal of these questions is to test your ability to act in a proper and ethical manner when it comes to clients.
The Series 3 test is a total of 120 true/false and multiple choice questions and students are required to score at least a 70% on each section to earn a Series 3 license. The test costs $130 and students are given 2.5 hours to complete both sections.
Does A Series 3 License Expire?
When does my Series 3 license expire? Your Series 3 license will not expire unless you have a break in registration.
How Long Does It Take To Study For The Series 3?
While there is no prerequisite study time to take the exam, the test can be very difficult for someone with limited trading knowledge or experience in the futures markets. As the exam is a two-part affair, studying for the exam should be approached in the same fashion. First, it is important to understand the ins and outs of the commodities futures and options business. Second, it is important to comprehend fully the regulations covering all professionals within the business.
ABTrainingCenter.com offers Series 3 License Training Courses in many formats such as online Series 3 training, live Series 3 classes, Series 3 online courses, and other Series 3 exam prep materials to help individuals pass the Series 3 exam and earn a Series 3 license.
Recommended Series 3 Courses & Available Series 3 License Training Options
To find training for earning your FINRA Series 3 license, simply click on any of the recommended courses below, or search under "Licensing" in the search box thereafter for "Series 3".
Good luck earning your Series 3 license!
Best-Selling Training Courses:
Online Training Courses
Looking For Other Securities Licensing Courses?

AB Training Center offers a number of FINRA / securities licensing courses and/or information on successfully passing your exams, including: