Series 32 License
Best-Selling Training Courses:
Self-Study Materials
About The Series 32 License
Searching for Series 32 training and help passing your Series 32 exam? Then you've come to the right place!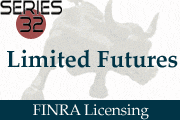 What Is A Series 32 License?
The Limited Futures Examination - Regulations (Series 32) is offered to individuals who are registered by regulatory authorities in the UK or Canada. Individuals may qualify for the Series 32 if, within the two years prior to filing the application, they have been registered or licensed in the UK or Canada.
ABTrainingCenter.com offers Series 32 books, CDs, and other Series 32 training materials to help individuals pass the Series 32 exam and earn a Series 32 license.
Recommended Courses & Available Training Options
To find training for earning your Series 32 license, simply click on any of the recommended courses below, or search under "Licensing/Designations" in the search box thereafter for "Series 32". Good luck earning your Series 32 license!
Best-Selling Training Courses:
Self-Study Materials