Series 57 License
Best-Selling Training Courses:
Online Training Courses
Self-Study Materials
About The Series 57 License
Searching for Series 55 training and help passing your Series 57 exam? Then you've come to the right place!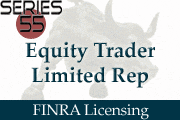 What Is A Series 57 License?
The Series 57 exam - the Securities Trader Representative Exam - assesses the competency of an entry-level registered representative to perform their job as a securities trader representative. With the Series 57, individuals can partake in NASDAQ trading, OTC equity trading and proprietary trading.
What Are The Requirements To Get A Series 57?
The Series 55 exam became the Series 57 exam in 2016 as a way to address high-frequency trading. The aim to help regulate high-frequency trading firms and forces broker-dealer firms to register with FINRA.
Those who passed the Series 55 or Series 56 before the change to Series 57 (Jan. 2016) are grandfathered in and don't have to take Series 57.
Effective October 1, 2018, candidates must pass the
Securities Industry Essentials (SIE) Examination
and a revised Series 57 Top Off exam to obtain the Series 57. Students must be associated with and sponsored by a FINRA member firm to be eligible to take the Series 57 exam.
What Is On The Series 57 Exam?
The Series 57 exam consists of 50 multiple-choice questions covering two main subject areas. Candidates are allocated 105 minutes to complete it and correctly answer at least 70% of questions to pass.
Covered Topics:
Trading Activities
Maintaining Books and Records, Trade Reporting and Clearance and Settlement
ABTrainingCenter.com offers Series 57 training materials to help individuals pass the Series 57 exam and earn a Series 57 license.
Recommended Series 57 License And Exam Prep Courses
To find training for earning your Series 57 license, simply click on any of the recommended courses below, or search under "Licensing/Designations" in the search box thereafter for "Series 57". Good luck earning your Series 57 securities license!
Best-Selling Training Courses:
Online Training Courses
Self-Study Materials
Find Seminars, Webinars, And Online Training In Your Area