Series 62 License
Best-Selling Training Courses:
Self-Study Materials
About The Series 62 License
Searching for Series 62 training and help passing your Series 62 exam? Then you've come to the right place!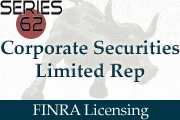 What Is A Series 62 License?
A Series 62 Corporate Securities Limited Representative license qualifies individuals to sell public offerings and/or private placements of corporate stocks, corporate bonds, rights, warrants, REITs, CMOs, and securities of closed-end companies, repos and certificates of accrual on corporate securities; securities traders; M&A; venture capital; corporate financing; ETFs, and hedge funds.
ABTrainingCenter.com offers Series 62 training materials such as Series 62 textbooks and CDs to help individuals pass the Series 62 exam and earn a Series 62 license.
Recommended Courses & Available Training Options
To find training for earning your Series 62 license, simply click on any of the recommended courses below, or search under "Licensing/Designations" in the search box thereafter for "Series 62". Good luck earning your Series 62 securities license!
Best-Selling Training Courses:
Self-Study Materials
Find Seminars, Webinars, And Online Training In Your Area
Looking For Other Securities Licensing Courses?

AB Training Center offers a number of FINRA / securities licensing courses and/or information on successfully passing your exams, including: