FINRA Series 63 License / Series 63 Licensing Courses
Best-Selling Training Courses:
Instructor-Led: Webinars
Online Training Courses
How To Earn Your FINRA Series 63 License
Searching for FINRA Series 6 and 63 license training and help passing your upcoming Series 6 or 63 exam? Then you've come to the right place!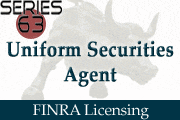 ABTrainingCenter.com offers Series 6 and 63 securities licenses courses in a variety of formats, including online Series 63 license training, Self-study Series 63 courses, CDs, and other Series 63 exam prep materials to help individuals pass the Series 63 exam on the first try.
What Is A FINRA Series 63 License?
A FINRA Series 63 Uniform Securities Agent State Law license qualifies individuals to sell securities across state lines. The examination covers the principles of state securities regulation reflected in the Uniform Securities Act; these laws are sometimes called "Blue Sky" laws. The Series 63 examination is a national test and does not vary by state. Developed by NASAA, The North American Securities Administrators, and administered by FINRA, the exam consists of 60 questions, and must be completed within 75 minutes. A score of 72% or higher is required to pass the exam.
Series 63 License Requirements / How To Earn Your Series 63 License
Before you schedule your exam, you must first choose the best method of Series 63 exam prep. AB Training Center offers Series 63 exam prep classes and Series 63 online courses to assist with your studies that will focus on content that conforms to the Series 63 exam requirements.
The most important step you can take to pass your Series 63 licensing exam on the first try is to study as much as possible. It is important, however, to study the right way. We recommend at least 90 hours of study time.
That's where AB Training Center comes in. We have the perfect Series 63 Exam Prep Class to meet your specific needs as someone attempting to obtain a Series 63 license. You do not need any prerequisites to take our exam prep classes. Just pick the study method of your choice and register. We make it a point to offer a variety of study formats to make sure we have the materials that work best for you, including CDs, practice tests and textbooks. Click below for our most popular Series 63 license training classes.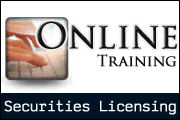 Prior knowledge or sponsorship is not required to for exam prep. However, to sit for the Series 63 exam, a candidate must be sponsored by a member of FINRA or a Self-Regulatory Organization (SRO). Students may take as many prep courses as needed, but sponsorship is mandatory to schedule and sit for the exam.
The specific procedure for taking your Series 63 exam is as follows:
Get sponsored by a FINRA-approved firm. Have this firm submit your fingerprints, background check and application to FINRA.
Once your enrollment is confirmed, contact the Prometric Testing Center to schedule your exam. You have roughly four months from your confirmation to do so.
Pay your fee and take the test. A passing grade is 72 percent or higher on the 65-question multiple-choice test. You have 75 minutes to complete it.
Once you are notified that you have passed the test, you will receive your Series 63 license. If you have already received your Series 6 or Series 7 license, you may now deal in securities.
If searching for a position, then it would be to your advantage to list "Studying for Series 63 exam" on a resume to enhance the viability of an employment application. In addition to the sponsorship requirement, candidates must pass a background check and furnish fingerprints.
Good luck with your Series 63 Exam prep and earning your Series 6, 7, or 63 licenses!
Best-Selling Training Courses:
Instructor-Led: Webinars
Online Training Courses
About The Series 63 License
The FINRA Series 63 license - also known as the Uniform Securities Agent license - is a requirement set by most states for investors to be able to do business in their state. It deals with state-level issues surrounding securities representatives.
After receiving a Series 63 license from the North American Securities Administrators Association (NASAA), investors can legally perform certain securities transactions. Most investors will need both a Series 63 and a Series 6 license to sell investment-related insurance policies.
The Series 63 exam, which is required to receive a Series 63 license, tests candidates on the requirements of the Uniform Securities Act as well as the ethics and obligations surrounding investors. Both topics compose a significant portion of the exam.
State Securities Acts and Related Regulations
The Uniform Securities Act is a basic model for states to follow surrounding securities regulations. This framework helps states protect against securities fraud and enforce state-specific rules. Each state can use the model as a starting point to create their own securities laws - known as blue sky laws.
Before taking their Series 63 exam, candidates should have extensive knowledge of the regulations set by the Uniform Securities Act. Questions covering the act's numerous aspects compose 60 percent of the test.
Ethical Frameworks and Fiduciary Obligations
The other 40 percent of the exam will cover various ethical considerations in the field of securities. Candidates should understand how to effectively communicate with clients, ethically receive compensation, handle client funds, deal with conflicts of interest and similar topics surrounding their future obligations.
Good luck on earning your Series 63 license!
Related Links
AB Training Center offers a number of FINRA securities licensing courses and information on successfully passing your exams, including: