Series 65 Licensing - Training Courses And Exam Prep
Best-Selling Training Courses:
Instructor-Led: Webinars
Online Training Courses
Earn A FINRA Series 65 License!
Searching for FINRA Series 65 exam courses and help passing your Series 65 exam? Then you've come to the right place, as AB Training Center has the information you need for registering, studying for, and passing your Series 65 exam, including hundreds of exam practice questions, study guide tips, and exam prep materials to help your pass your Series 65 licensing exam.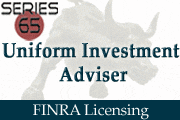 What Is A Series 65 License? What Is On The Series 65 Licensing Exam?
The FINRA Series 65 license qualifies individuals to provide investing and general financial advice to clients. Passing the Series 65 exam qualifies individuals as Investment Advisor Representatives.
Series 65 test candidates' comprehension of financial concepts and qualifies them to give investment advice and charge a fee for doing so. So if you are currently looking for a career in a financial advisory position, the Series 65 could be an asset on your resume.
Becoming a registered investment adviser representative is a great start to a career as a financial planner or financial advisor. With your Series 65 license you can provide information on the various types of securities products, assistance with retirement planning, such as whether to make an IRA contribution or fund Roth IRAs, and other financial planning advice.
The Series 65 exam, known formally as the Uniform Investment Adviser Law Examination, covers laws, regulations, ethics and topics such as retirement planning, portfolio management and fiduciary responsibilities. The exam is designed by the North American Securities Administrators Association (NASAA) and is administered by the Financial Industry Regulatory Authority (FINRA).
Does A Series 65 License Require Sponsorship?
No, unlike many other FINRA Series exams, the Series 65 exam does not require an individual to be sponsored by a member firm. This exam is one of the more basic exams and does not require any other prerequisites to be eligible.
How Long Does A Series 65 License Last?
After you pass the Series 65 test you have two years to become licensed (registered) with a state or the exam expires. Once you are registered, the exam remains effective as long as you stay registered.
What Is On The FINRA Series 65 Exam?
The Seris 65 exam consists of 130 multiple-choice questions covering four main topic areas. Students have 3 hours to complete the exam and need at least a 72% to pass. Tax-related questions appearing on the exams starting in Jan. 2019 reflect the 2018 tax code changes.
Covered Topics:
Economic factors and business information
Investment vehicle characteristics
Client investment recommendations and strategies
Laws, regulations, and guidelines on unethical business practices
Should I Get A Series 65 Or A Series 66 License?
The Series 65 and 66 are both licenses that allow the individual to give fee-based advice. The Series 66 exam is only for those individuals who are registered for, or completed the
Series 7
exam. It combines the Series 63 with the Series 65 exam. The Series 65 exam is designed for those who do not have a Series 7 license.
The content of both exams are similar though the Series 65 will be more heavily concentrated on Investment products and economics. Those topics, theoretically, that the individual has not had without a Series 7 license. The Series 66 exam has a little more State law and some investment products.
ABTrainingCenter.com offers Series 65 exam training courses in a variety of formats, including live Series 65 licensing classes, online Series 65 training courses, Series 65 study manuals, and other exam prep materials to help individuals pass the Series 65 exam and earn a Series 65 license.
Recommended Series 65 Licensing Classes & Available Series 65 Training Courses
To find training for earning your FINRA Series 65 license, simply click on any of the recommended courses below, or search under "Licensing" in the search box thereafter for "Series 65". Good luck with your Series 65 licensing exam!
Best-Selling Training Courses:
Instructor-Led: Webinars
Online Training Courses
Find Seminars, Webinars, And Online Training In Your Area
How To Prepare For The FINRA Series 65 Exam
Naturally, you want to pass your Series 65 Exam as soon as possible, so you can start serving your clients as an investment adviser. But don't get ahead of yourself. The simple fact is the only way you are going to pass on the first try is by doing adequate Series 65 Exam prep. That means hours of study using the right Series 65 study guide and materials.
The Series 65 is an intensive exam that FINRA uses to ensure quality in its licensed members. Just about anyone who passed on the first try will tell you that the reason they were able to do it is because they had the right Series 65 training courses and classes and devoted many hours to Series 65 prep and study.
How can you find the right Series 65 training course for you? Look no further. You've found it right here. How do we know we have your ideal Series 65 training course? At AB Training Center, we have worked hard to make sure we have the most comprehensive Series 65 review classes possible, with unlimited practice exams, structured coursework and proven exam strategies. What's more, we have made it so that you can customize your Series 65 training according to your learning style, with live classroom, online and self-study packages.
Tips On How To Pass The FINRA Series 65 Test
What are the tricks that will make it easier to pass the test? Well, there is no way around the fact that you have to study, and study hard. You should have devoted at least 50 or 60 hours to studying the materials we provide before considering sitting for the Series 65 exam.
That being said, it can be helpful to know the weight of all the topics presented on the exam so you can determine your focus while using your training materials. There are 130 questions on the test - 40 on Ethical and Legal Guidelines, 40 Investment Recommendations & Strategies, 31 on Investment Vehicles and 19 on Economics and Analysis.
Additionally, it cannot be stressed enough how important the practice tests are. You get unlimited chances to take the practice test but only one opportunity to pass the real test on the first try, so take advantage! You should be consistently scoring in at least the 80s on the practice tests before taking the real exam.
Recommended FINRA Series 65 Training Courses
One of the benefits of AB Training Center Series 65 review courses is you choose the format. Take a moment to consider which format is best for you, then click on the course that corresponds with that format to register or do a search under "Licensing" in the search box above. Your options are:
Live and OnDemand Online Review Class

If you like the idea of a live learning environment but don't have the time to attend a class, or if you prefer to learn at your own pace, our Series 65 live webinar with OnDemand playback is ideal for you.

Combine the best of live classroom interaction with the convenience of the digital world. Sit in on our intensive live classroom digitally from the comfort of your own home or office. The class follows an instructor-led format with the same structure as our live classroom exam prep course. The way it works is simple. Just log in at the scheduled time and participate in the class, with a trained instructor providing you with all the information you need to know — wherever you choose to connect with your internet-enabled device.

During the real-time presentation, you can ask questions and make comments just like a live class. However, if you cannot attend in real time, or if you want to review, simply access the OnDemand playback to see any portion of the class any time you want!

This program also comes with a full suite of our premium instruction study materials, including concise, easy-to-follow class notes. Click the link above for details and available dates.


OnDemand Online Review

If you are used to having all your information provided digitally and do not have the desire or ability to adjust your schedule to accommodate class times, simply order our OnDemand online review. You get all the premium study materials and access to the class, but you study on your own time at your own pace, dialing up the classroom lectures digitally whenever it is convenient.

Like the live and OnDemand course combination, this OnDemand-only course provides you with full access to our suite of resources, including:



A comprehensive exam manual
Study notes
Online practice exams and a mastery exam
SecuritiesPro QBank personalized exams
Interactive online instructional tools


You'll also enjoy access to streaming video services that allow you to listen to our expert instructors anytime, anywhere. These digital classes provide all the information as a live class in a convenient on-demand package.


Self-Study Training Package

Some people study best on their own, without conforming to any structure but their own understanding of how they learn best. We can accommodate you as well. If you are the type who learns best when you create your own study structure, opt for our self-study package for the Series 65 Exam. We'll send you the premium study materials, including:



A Series 65 FINRA license exam textbook covering all aspects of the Series 65 exam
Personalized exams of more than 600 practice questions with SecuritiesPro QBank
The Mastery Exam, which mimics the actual test you'll be taking
A test that replicates the degree and likely coverage of the real exam
A huge array of resources and support through InstructorLink, including a searchable FAQ, a blog of exam tips, a library of streaming videos, and more


With our range of self-study tools, you can design your own curriculum and choose how to study in a way that works best for you.
Looking For Other Securities Licensing Courses?
AB Training Center offers a number of FINRA / securities licensing courses and/or information on successfully passing your exams, including: