Series 66 License Training Courses And Exam Prep Materials
Earn A FINRA Series 66 License And Become An Investment Advisor Representative!
Searching for Series 66 classes and needing help passing your FINRA Series 66 exam? Then you've come to the right place, as AB Training Center has the information you need before registering, studying for, and passing your Series 66 exam, including hundreds of practice questions covering the FINRA rules, laws, regulations, and guidelines, as well as excellent study materials and tons of other test prep info for help in passing your test.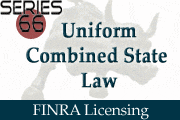 What Is A Series 66 License?
The Series 66 license, also known as the Uniform Combined State Law Examination, covers topics relevant to providing investment advice and effecting securities transactions for clients. It qualifies an individual to have a securities industry career as an "Agent" of a broker/dealer and an "Investment Advisor Representative".
The exam covers topics that have been determined to be necessary to provide investment advice and effect securities transactions for clients. The Series 66 license permits you to provide investment recommendations and strategies, make investment recommendations re wealth management and financial planning, discuss alternative investments, and cover other topics that have been determined to be necessary to provide investment advice and effect securities transactions for clients.
Getting the FINRA Series 66 license fulfills the requirements of both the Series 63 and Series 65 licenses. Like the those licenses, the FINRA Series 66 exam is designed by the North American Securities Administrators Association (NASAA) and is administered by the Financial Industry Regulatory Authority (FINRA).
What Are The Requirements To Get A FINRA Series 66 License?
In order to take the Series 66 exam, you must be a Series 7 license holder, or be taking the
Series 7
license exam at the same time as the Series 66 license exam. As of Oct 1, 2018 this also means you must pass the new
Securities Industry Essentials (SIE) Examination
if you don't already hold your Series 7 license.
Can I Take The Series 66 Exam Without A Sponsor?
While you can take the Series 66 exam without sponsorship from a FINRA member firm, the co-requisite
Series 7
license requires member sponsorship.
How Long Does A Series 66 License Last?
After you pass the Series 66 test you have two years to become licensed (registered) with a state or the exam expires. Once you are registered, the exam remains effective as long as you stay registered.
What Is On The Series 66 Licensing Exam?
The Series 66 exam is 100 multiple-choice questions covering the four main topic areas reflecting the skills and knowledge required for dually registered agents of broker dealers and investment adviser representatives. Candidates have 2.5 hours to complete the exam and must score at least a 73% to pass.
Covered Topics:
Economic Factors and Business Information
Investment Vehicle Characteristics
Client Investment Recommendations and Strategies
Laws, Regulations, and Guidelines, including Prohibition on Unethical Business Practices
As of Dec. 2018, the North American Securities Administrators Association updated its questions due to recent changes in the tax code. Questions using the 2018 tax code were rolled out in Jan. 2019.
Should I Get A Series 65 Or A Series 66 License?
The Series 65 and 66 are both licenses that allow the individual to give fee-based advice. The Series 66 exam is only for those individuals who are registered for, or completed the
Series 7
exam. It combines the Series 63 with the Series 65 exam. The Series 65 exam is designed for those who do not have a Series 7 license.
The content of both exams are similar though the Series 65 will be more heavily concentrated on Investment products and economics. Those topics, theoretically, that the individual has not had without a Series 7 license. The Series 66 exam has a little more State law and some investment products.
Recommended Series 66 Licensing And Exam Prep Training Courses
ABTrainingCenter.com offers FINRA Series 66 license training courses in a variety of formats, including live Series 66 classes, online Series 66 license training, and Series 66 study manuals to help individuals pass the Series 66 exam and earn a Series 66 license.
To find training for earning your FINRA Series 66 license, simply click on any of the recommended courses below, or search under "Licensing" in the search box thereafter for "Series 66". Good luck earning your Series 66 license!
Find Seminars, Webinars, And Online Training In Your Area
How To Pass The FINRA Series 66 Exam
A Series 66 license qualifies an individual to be both an "agent" of a broker/dealer and an "investment advisor" representative in each state. One of the main Series 66 license requirements is a satisfactory performance on the Series 66 Exam. This means you will have to schedule, study for and pass the Series 66 Exam before you will be granted a Series 66 license. The best ways to prepare for the exam so that you pass it the first time you sit for it, along with the basic Series 66 License Exam requirements are listed below.
Series 66 Exam Requirements
While some licensing exams require you have a certain number of pre-licensing coursework hours before sitting for the test, there is no required pre-licensing to sit for the Series 66 exam. That being said, your chances of passing the exam are quite low if you have not studied the material for a significant portion of time. It is highly recommended that you use or Series 66 Exam Prep materials or take one of our Series 66 courses.
There are no prerequisites for Series 66 Exam Requirements, but if registering as an individual, you must complete Form U-10. You may self-study and take as many Series 66 courses as you wish before registering.
In addition to the Series 66 exam fee, you will be required to provide fingerprints and authorize a background check.
If you've met all the Series 66 Exam Requirements, then you are ready to schedule your Exam! Simply visit a Prometric Testing Center to find an exam facility near you. Exams are given year-round. When scheduling your exam, be mindful of the time required to effectively study for your test.
The Series 66 exam is 100 multiple-choice questions. Test takers will have 150 minutes to complete the exam. You will also have to be prepared to surrender the Series 66 exam fee. Cost of the Series 65 exam is $128.
How Do You Get That Series 66 License?
If you want to be both a stockbroker and investment adviser in your state, a Uniform Combined State Law license, or Series 66 license, is the way to go. FINRA is the Financial Industry Regulatory Authority, and they decide who is authorized to deal in securities and various other financial products and who is not. Unless you have the required license from FINRA, you will not be able to practice for your firm.
Suggestions For Your FINRA Series 66 Exam Prep
Before you can think about scheduling your exam, you must first choose the best method of Series 66 exam prep. Passing any licensing exam is not easy, and to be successful, especially if you wish to be successful the first time out, you will need to study intensely for a sufficient number of hours. We recommend starting at least three or four weeks before you are scheduled to sit for the exam and being prepared to study for at least 90 hours.
But when and how much you study are only part of the picture. What and how you study are equally important. At AB Training Center, we have created study courses on the principle that people have different learning styles, and in that spirit, we have devised three study methods to suit those various styles. Each program offers comprehensive study materials with everything you need to pass the Series 66 Exam. They simply differ in how they conform to your way of learning.
AB Training Center offers Series 66 exam prep classes and Series 66 courses to assist with your studies that will focus on content that conforms to the Series 66 exam requirements.The evidence is clear. If you want to pass your Series 66 Exam on the first try, you have to study, and study hard. You will want to put in at least 50 to 60 hours with your Series 66 training materials in addition to any Series 66 classes you may take.
Learning Formats For Earning Your Series 66 License
How do you know if you are studying the right way? AB Training Center can help. We have dedicated ourselves to providing the most comprehensive Series 66 Exam study materials possible and presenting them to you in a variety of ways so that you can learn in the style that's best for you.
That means if you are the type of learner who learns best when you are in a traditional classroom environment, with a knowledgeable instructor right in front of you providing the information you need and answering questions as you have them, we'll invite you to join one of our live Series 66 classroom reviews.
Available learning formats for earning your Series 66 license include:
Live Series 66 Classes

Our live training classes are designed for those who are training for Series 66 and desire maximum student/teacher interaction. The intensive 2-day review class, combined with the suggested 50-60 hours of self-study, is sure to help you pass the Series 66...the first time! Live Series 66 training classes are offered in most major metropolitan areas across the US. For complete details and locations, click the link above.
Series 66 Online Review

On the other hand, if you like the idea of an instructor-led class but will better absorb the information if you can do it virtually and review it later, we will introduce you to our live webinar with OnDemand playback. Our Series 66 OnDemand Online Review course allows you to view the entire course from beginning to end, as streaming video, offering you the same high level of instruction you would expect from a live class. The difference is that you can follow the course at your leisure - anytime, anywhere, and as often as you like. If you are training for Series 66 and work/live on a tight schedule, this is the course for you!

If you prefer to do all your learning online and on demand so you can study at your own pace and on your own time, we have an option for that, too. We even have a completely unstructured option where we simply send you all the materials you need and you decide how to study them!

Any learning option you like is available to you. Just look below for more details on each program and click the course that corresponds to your style to register.
Series 66 Study Materials

Some of us simply learn best when left to our own devices, without anyone telling us when, what and how to study.

If this is your learning style, order the self-study package, which will provide you with all the premium study materials you need to prepare for the Series 66 exam, including:



A comprehensive FINRA license exam textbook
An online video review that you can watch at your leisure as often as you need to
A Mastery Exam that very closely simulates the actual exam with respect to question type and difficulty
The SecuritiesPro QBank custom exam questions and the InstructorLink resource
Good luck with your Series 66 classes!
Related Links