Are You Looking For Series 9 Questions?

Then you've come to the right place!

Not only does ABTrainingCenter.com offer Series 9 Questions, we can provide an entire Series 9 Self-Study Package!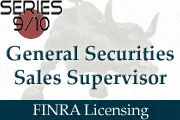 Included in the NASD Series 9 Study Package:
OnDemand Online Class (Allows you to view the course from beginning to end at your leisure. These courses provide you the same high-level of instruction you would expect from a live class.)

Series 9 Study Guide (License Exam Manual)

Series 9 Questions (These questions can be combined randomly to create practice exams!)

Securities Pro QBank (Formulate practice tests based on topic, level of difficulty, etc)

Instructor Link


Recommended Courses & Available Training Options For Series 9

To find Series 9 exam materials, simply click on any of the recommended courses below, or search under "Licensing" in the search box thereafter for "Series 9".

Good luck with your NASD Series 9!