Series 52 License
Best-Selling Training Courses:
Online Training Courses
Self-Study Materials
About The Series 52 License For Municipal Securities
Searching for Series 52 training and help passing your Series 52 exam? Then you've come to the right place!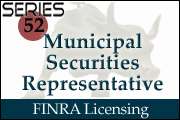 What Is A Series 52 License?

The Series 52 is a certification that qualifies a financial professional to transact municipal securities. It is known as the Municipal Securities Representative Qualification Examination.

The Series 52 exam is developed and offered by the Municipal Securities Rulemaking Board (MSRB). The Series 52 license qualifies a financial professional to become a licensed municipal securities representative. People who obtain this certification can sell municipal securities such as municipal bonds. They can also perform underwriting analysis for municipal securities.

What Is On The Series 52 Licensing Exam?

The Municipal Securities Rulemaking Board (MSRB) filed a proposal with the SEC to modify the Series 52 exam into a specialized knowledge examination, while at the same time recognizing a passing score on FINRA's Securities Industry Essentials (SIE) Examination as a prerequisite. This change was implemented on October 1, 2018.

Topics Covered:
Municipal Securities
Economic Activity, Government Policy and the Behavior of Interest Rates
Securities Laws and Regulations
Students have 2.5 hours to complete the 75 multiple-choice exam and must score at least a 70%.
Recommended Series 52 Licensing And Exam Prep Materials
ABTrainingCenter.com offers Series 52 exam prep training materials to help individuals pass the Series 52 exam and earn a Series 52 license.

To find training for earning your Series 52 license, simply click on any of the recommended courses below, or search under "Licensing/Designations" in the search box thereafter for "Series 52". Good luck earning your Municipal Securities Series 52 license!
Best-Selling Training Courses:
Online Training Courses
Self-Study Materials
Find Seminars, Webinars, And Online Training In Your Area
Share on Facebook
Share on Twitter