South Dakota Securities Licensing

AB Training Center offers an array of securities training courses to those needing a Series 6, 7, or 63 license in South Dakota.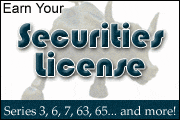 No matter if you're a resident or simply seeking work in the state, we can help you obtain your license as quickly as possible. All of our courses are designed to help you pass the exams developed by the North American Securities Administrators Association (NASAA).

Our classes are adminstered in several different formats including seminars, online training, and self-study. You also have the convenience of choosing which format works best for you and your grueling schedule. With so many courses to choose from, you can be on your way to a very successful career with the specific training and license you desire.

South Dakota has a very diverse economy with soaring industries in agriculture, food processing, tourism, meatpacking, electronic manufacturing, and several more. In recent years, the state's economy has been climbing at a very rapid rate.

As a result, securities training has also seen an increase in demand and AB Training Center established a large selection of courses available in Brookings, Pierre, Rapid City, Sioux Falls, Yankton, and surrounding areas. To check out our classes and see how they can help you accomplish your dreams, please call us today.

Find South Dakota Securities Training Courses

To find Series 7, Series 6, or Series 63 exam training in South Dakota, either click a Recommended Course below or use the search box. Good luck on your exam!