Tennessee Securities Licensing

At AB Training Center, we offer a huge selection of classes for those seeking a series 7 license or designation in Tennessee.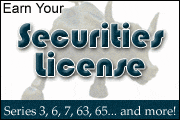 We have a variety of course formats offered such as self-study, seminars, online training, and even OnDemand. If you can't make it to a class, the recorded classes are a great way to catch up on what you've missed and never fall behind in your lessons. Everyone has their own hectic schedule and there's no better way to start on a great path to the proper education for your licensure than with the convenient classes we have to offer.

Tourism makes up the largest part of the state's economy due in part to the huge jazz, blues, and country music fans. From all of the visitors that Tennessee sees each years, it's so wonder that nearly every other sector of the economy has also been effected positively. Because of this, more people have sought out securities training courses than ever before.

AB Training Center has classes readily available in Chattanooga, Clarksville, Jackson, Memphis, Nashville, and surrounding cities throughout the state.

Find Tennessee FINRA Series 7 Exam Training

To find Series 7 & Securities license training in Oregon, either click a Recommended Course below or use the search box.