Texas Insurance Adjuster License
Best-Selling Training Courses:
Online Training Courses
Instructor-Led: Webinars
Texas Insurance Adjuster Licensing Requirements
Becoming a Texas Claims Adjuster can be an appealing profession that can be quite lucrative. But before you can begin working as an Insurance Adjuster, you must first obtain your TX Insurance Adjuster License.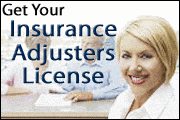 TX Adjuster License Requirements:
18 years of age or older

US Citizen or legal alien who possess a work authorization from the US Immigration and Naturalization Services

Complete our Adjuster Licensing Course -or- Pass the TX state exam administered by Pearson VUE Testing Centers

Complete the Texas Insurance Adjuster License application and submit with applicable fees

30 hours of CE is required every two years (2 hrs in Consumer Protection and/or Adjuster Ethics)
Texas Department of Insurance requires adjusters to take a state certification exam administered by the education provider or the state's testing administrator.
The exam must be proctored by a disinterested third party and has a 3-hour time limit. The disinterested third party may not be related to the student, may not be the student's employer or employee, and may not otherwise benefit from the student passing the course. Texas also requires that a notarized Pre-Licensing Self-Study Course Affidavit form (included with your online course) be completed and submitted to the education provider.
You may choose your Proctor. It cannot be a friend, relative, or business associate. Common proctors include teaching staff of an accredited institution of higher education, a member of the Armed Forces, Human Resource Director or Manager, High School Administrator, or a local librarian.
If you are taking the online course and successfully pass the certification exam, you will need to send in your completed and notarized Pre-Licensing Self-Study Course Affidavit form. Upon receipt of your form you will be mailed a Certificate of Completion within 5-7 business days. You will need to mail the Certificate of Completion along with your fingerprint receipt, Texas Adjuster Application (obtained from the Texas Department of Insurance website), and a $50 fee to the Texas DOI.
Non-Resident Texas Insurance Adjuster License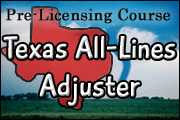 Non-resident applicants for a TX Adjuster License must submit an application. Please visit the
National Insurance Producer Registry
for more information on Texas non-resident licensing.
The Texas P&C Adjuster license is the most prominent adjuster license in the country. Once licensed in Texas, a non-resident license can be applied for, based on reciprocity rules, in other states without meeting additional licensing requirements. Check with your own state's Department of Insurance to see how the Texas PC Adjuster License can be used in your state.
An individual residing in a state that does not require an adjuster license may elect to take the Texas PC Adjuster License course and exam to increase their knowledge and credibility in those states. Individuals residing in a state that requires adjuster licensing and is reciprocal with Texas may still choose to obtain the Texas license since it is one of the most widely recognized adjuster licenses in the country. Please check with your state insurance department to see if your state is reciprocal with Texas.
Texas Department of Insurance - Licensing DivisionAddress:
MC107-1A | P.O. Box 149104 | Austin, TX 78714-9104
Phone:
512.322.3503
Website:
http://www.tdi.state.tx.us
Recommended Texas Adjuster License Training Courses
AB Training Center provides approved TX Adjuster training and materials needed to obtain your Texas Insurance Adjuster License. Simply select from the recommended courses below, or search under "Licensing" in the search box thereafter for "Insurance-Adjusters".
And to help your career, we have included below a link to our Xactimate training course, which is the leading claims software program in the country.
Best-Selling Training Courses:
Online Training Courses
Instructor-Led: Webinars
Other Insurance Licensing Courses For Your State:Disclaimer
This information is based on state laws and regulations, and is subject to change. ABTrainingCenter makes every effort to make sure this information is current and accurate, however, ABTrainingCenter is not engaged in rendering legal or professional advice and shall not be held responsible for any inaccuracies contained herein.