Utah Insurance Adjuster License Training Class & Exam Prep
Earn Your Utah Insurance Adjuster License!
Ready to work as an insurance claims adjuster in Utah? You must first obtain your insurance adjuster license by taking the Utah pre-licensing course and the Utah claims adjuster exam.
To get started, you must first decide which type of license you want. Specifically, there are four lines of insurance claims adjusters in Utah, with a different exam for each. The Utah exams include:
Property and Casualty (100 questions, 2 hours)
Workers' Compensation (60 questions, 1 hour)
Accident and Health (100 questions, 2 hours)
Crop (60 questions, 1 hour)
You must score at least 70 percent correct to pass. Keep in mind that you can only pursue one license at a time.
How Can I Become An Insurance Claims Adjuster In Utah?
Utah requires an insurance claims adjuster license. You will need adequate claims adjuster training to prepare for the required Utah insurance adjuster exam.
Agent Broker Training Center can help, with carefully designed and fully tested adjuster license courses to give you the best chance of passing the Utah exam on the first try. Find the courses you need by using the links or the search box at the bottom of this page. When you are ready, register for each exam with Prometric Testing Centers through their online portal.
Once you pass and submit your fingerprints for a background check on-site, apply for your license through NIPR or through the Sircon website. The state will review your license application in five to ten business days. You can check your application status through the Utah Insurance Department.
Recommended Utah Adjuster Licensing Courses, Study Guides, And Exam Prep Materials
AB Training Center provides approved Utah Adjuster training classes, study guides, and exam prep materials needed to obtain your Utah Insurance Adjuster license. We have everything you need to prepare yourself for the Utah Claims Adjuster exam. Simply select from the recommended courses below, or search under "Licensing" in the search box thereafter for "Insurance-Adjusters".
Also Available: Xactimate Training Courses
We also have courses to help you familiarize yourself with Xactimate software. If you aren't familiar with Xactimate already, you'll know all about it once you start working as an adjuster. This is critical claims estimating software and we can show you how to use it the right way.
Recommended Training Courses:
Online Training Courses
Webinars Or Audio Conferences
Find Seminars, Webinars, And Online Training In Your Area
Licensing Info For How To Become A Utah Insurance Adjuster
Below is information on the licensing requirements for becoming an Utah Insurance Adjuster, its insurance department, and examination scheduling facilities.
Utah's Adjuster License Requirements:
18 years of age or older

Have good faith intention to engage in insurance adjusting

Be competent and trustworthy

Cannot have any felony convictions or misdemeanors involving anything fiduciary, breach of trust, forgery, or theft

Pass the UT state exam administered by Prometric Testing Centers

Submit fingerprints and undergo basic background check

Complete the Utah Insurance Adjuster License application and submit with applicable fees

24 hrs of CE required every 2 years (1/2 has to be in a classroom setting, and 3 hrs must cover ethics)
Non-Resident Utah Insurance Adjuster License
Non-resident applicants for a UT Adjuster License must submit an application. Please visit the
National Insurance Producer Registry
for more information on Utah non-resident licensing.
NOTE: Utah grants reciprocity to adjusters holding a license in their home state. Adjusters residing in states without licensing requirements must take the Utah exam.
Contact Info For Your Utah Claims Adjuster Licensing Exam
To help with your examination scheduling, we have provided below information on Utah licensing requirements, its insurance department, and examination scheduling facilities.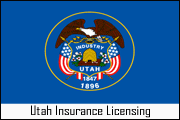 Utah Insurance Department - Producer Services DivisionAddress:
3110 State Office Building | Salt Lake City, UT 84114-6901
Phone:
801.538.3855
Fax:
801.538.3830
Email:
licensing.uid@utah.gov
Website:
http://www.insurance.utah.gov
Examination SchedulingProvider:
Prometric
Phone:
1.800.697.8947
Website:
http://www.prometric.com/utah/insurance.htm
Good luck passing your Claims Adjuster insurance licensing exam!
Other Insurance Licensing Courses For Utah:
Good luck passing your Utah Claims Adjuster insurance licensing exam!
Disclaimer
This information is based on state laws and regulations, and is subject to change. ABTrainingCenter makes every effort to make sure this information is current and accurate, however, ABTrainingCenter is not engaged in rendering legal or professional advice and shall not be held responsible for inaccuracies contained herein.