Utah Securities Licensing

At AB Training Center, we offer a huge selection of classes for those seeking a Series 7 License in Utah.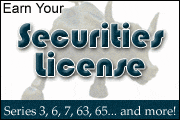 We have a variety of courses in several formats including self-study, seminars, online training, and even audio versions are available. If you can't make it to a class, the recorded classes are a great way to catch up on what
you've missed. Everyone has their own busy schedule and there's no better way to start or catch up on your education for your licensure than with the convenience we have to offer. Today is the day to begin your securities training courses from us.

Tourism is a huge contributor to the state's economy. Aside from tourism, Utah's economy is as varied as its geogrpahy. With industries such as oil, pertroleum, cattle ranching, crop farming, mining, salt production and government services, the state has no shortage of industrial options. With a growing economy, the demand for securities training has also increased.

AB Training Center offers a lot of courses in Orem, Provo, Salt Lake City, Sandy Hills, West Valley City, and other cities statewide. Please contact us today, so we can start helping you on your way to that license you're wanting to obtain.

Find Utah Securities Training

To find Series 7, Series 6, or Series 63 exam training in Utah, either click a Recommended Course below or use the search box. Good luck on your exam!